Nikkei Surge No Reflection of Economy, Opposition Chief Says
Maiko Takahashi and Takashi Hirokawa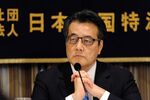 The Nikkei 225 Stock Average's surge past 20,000 doesn't indicate that Japan's economy is strong, the country's opposition leader said.
"While stock prices are rising, not many people think that the economy has improved," Democratic Party of Japan President Katsuya Okada said Thursday in an interview at his Tokyo office. "It's incorrect to view stock prices as a measure of everything."
Okada, 61, was dismissing claims by Yoshihide Suga, the government's top spokesman, that improvement in the real economy was a major reason for the bourse's rise. The former foreign minister also indicated that a slide in the stock market could trip up Prime Minister Shinzo Abe's government.
"Should stock prices become unstable, the mood will change a lot," Okada said. "The government shouldn't just be trying to raise stock prices, it should trying to raise the level of people's livelihoods by improving the economy."
The Nikkei closed above 20,000 for the first time since April 2000 on Wednesday. The benchmark has more than doubled since Abe won office in December 2012, partly due to the Bank of Japan's unprecedented easing.
BOJ Easing
The Bank of Japan under Governor Haruhiko Kuroda has twice fired a monetary stimulus "bazooka" over the past 24 months as it targets 2 percent inflation. Even though prices are barely rising, Okada said they shouldn't go any further.
"Monetary easing hasn't helped to greatly boost capital spending or export volumes, so further easing isn't needed, Okada said. ''It could even create alarm about a bubble forming."
Ruling Liberal Democratic Party lawmaker Kozo Yamamoto said in a separate interview Friday that the BOJ is likely to add stimulus at a policy meeting next week as inflation is dipping below zero and the economy is stalling.
Okada, who wore glasses in the interview after recent eye surgery, became the DPJ's leader in January after a general election trouncing by Abe's LDP.
He was deputy prime minister in 2012 when Abe's victory knocked the DPJ from power after the public tired of policy reversals on security and tax and a series of leadership changes. Abe's more recent victory in the December election left the DPJ with only 72 seats in parliament's more powerful lower house, compared with 290 for the ruling LDP.
The lack of a viable opposition was the main reason Abe's coalition won a second two-thirds majority, according to three in four voters surveyed by the Asahi newspaper in a December poll. Only 11 percent said the ruling party won because people wanted to give Abe a new mandate for his policies, the paper said.
Before it's here, it's on the Bloomberg Terminal.
LEARN MORE