Crash-Era Ending in Nasdaq as Index Passes 15-Year Closing High
Michelle F. Davis and Lu Wang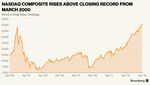 Advances in EBay Inc. and Microsoft Inc. propelled the Nasdaq Composite Index past its all-time closing high, leaving the gauge at the brink of a record for the first time since the dot-com crash in 2000.
The Nasdaq advanced for a fourth day, rising 0.5 percent to 5,064.18 at 3:25 p.m. in New York to bring its 2015 gain to 6.8 percent. The measure has almost quadrupled since global equity markets bottomed in March 2009, paced by gains in tech giants from Apple Inc. to Google Inc.
Better-than-expected earnings from International Business Machines Corp. and Intel Corp. helped extend a five-year expansion that have lifted tech profits to a record. While the advance has brought the Nasdaq to new highs, valuations are only a fraction of where they were 15 years ago.
"You should feel much more comfortable investing in Nasdaq today," Jason Benowitz, a New York-based senior portfolio manager who helps oversee $4.5 billion at Roosevelt Investment Group Inc., said by phone."There are going to be some people who recall the last bubble peak and say this is an indication the market is too frothy. In my view, it's not."
Almost two months after surpassing 5,000 on March 2 for the first time in 15 years, the gauge finally exceeded the 5,048.62, a level that was reached on March 10, 2000, and stood for a decade and a half as the dot-com era's high-water mark. Even with today's advance, the Nasdaq remains below its intraday high of 5,132.52 and the second-highest intraday level, 5,078.86, both reached in March 15 years ago.
Broad Gains
The Standard & Poor's 500 Index gained 0.5 percent to 2,117.92, reaching an intraday record of 2,120.49. The Dow Jones Industrial Average added 73.67 points, or 0.4 percent, to 18,111.94.
While the Nasdaq is associated with technology, gains have been spread around its industry groups. Biogen Idec Inc. has climbed 26 percent in 2015, while Monster Beverage Corp. is up 29 percent and Dollar Tree Inc. has risen 15 percent.
Several companies associated with the 2000 peak have been enjoying their best gains in years, with Microsoft up 62 percent since the start of 2013, Intel up 56 percent and Cisco Systems Inc. rising 46 percent. All three are still well below their 2000 highs.
Earnings Growth
Unlike the dot-com era, when investors snapped up Internet companies with promise but little profit, today's gains are built on earnings that have almost tripled in the past decade and a half, driven by demand for products such as Apple's iPhone and Google's web ads.
Information technology, the biggest industry in the S&P 500 with a 20 percent weighting, accounted for 19.3 percent of the full index's operating earnings last year, data compiled by S&P Dow Jones Indices show. In 2000, when technology stocks commanded nearly a third of the gauge, the group's profits were 12.8 percent of the total.
"The Nasdaq's in much better, healthier shape than it was in 2000 in terms of earning power and the quality of the companies it constitutes, Todd Lowenstein, who helps manage $16 billion at HighMark Capital Management Inc. in Los Angeles, said by telephone. ''Biotech is playing a larger role. It's still richly valued, not as bad, but the constituents are healthier and more attractive."
Unprecedented Rally
If the Nasdaq holds its gain this quarter, it would be the 10th straight advance. While that would be an unprecedented streak, the pace of gains is not close to the dot-com era. Over the two years leading up to the 2000 peak, the Nasdaq Composite surged 189 percent and nearly 50 stocks, including QLogic Corp. and NetApp Inc., soared at least 10-fold.
Since March 2013, the index has risen 53 percent, and six stocks are up more than 10-fold.
Steadier gains kept valuations in check. The Nasdaq Composite trades at 30 times earnings, versus a multiple of 190 in March 2000. Among the biggest companies tracked by the Nasdaq 100 Index, the top 10 best performers since 2013, including Netflix Inc. and Facebook Inc., are valued at an average 66 times profit.
Eight of the top 20 stocks in the Nasdaq 100 at the bubble's peak no longer exist as standalone public firms, including WorldCom Inc., Sun Microsystems Inc. and Global Crossing Ltd. Among the survivors, the 10 biggest winners over the final two years of the Internet frenzy garnered an average P/E ratio of 808. EBay Inc. was valued at 3,220 times profit and Yahoo! Inc. traded at 648. Today, the two have a multiple of 25 and 44, respectively.
"In the 1990s, there was a sense in which the Internet, personal computers and wireless phones were going to change everything," said Mark Dawson, chief investment officer at Seattle-based Rainier Investment Management, which oversees about $5.5 billion. "'The truth is they changed a lot , but they didn't change the guiding principal of investing in the stock market."