Morgan Stanley Predicts Strong iPhone Sales Due to Consumer Upgrade Intentions
Nearly three-in-four iPhone users plan to upgrade in the next two years
by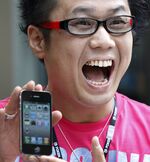 It's not just new services and products like the watch that are leading analysts at Morgan Stanley to remain bullish on Apple, it's the rate at which people upgrade their iPhones as well. 
Analysts and investors will get more insight into how the quarter stacked up when Apple reports earnings next week, but Katy Huberty and her team at Morgan Stanley are going into it with a positive outlook. The firm calls for a number of catalysts in the coming months that will send shares of Apple higher, including the Apple Watch as well as music and TV among others. They reiterated their rating and held their price forecast at $160 a share. 
Huberty also says that iPhone demand remains strong and she anticipates continued upgrades will keep demand solid 2016. To track iPhone demand, Morgan Stanley uses its AlphaWise Smartphone tracker, which uses multi-country web search analysis using Google Trends. Right now, it's pointing to 55.5 million iPhone end demand for the quarter. 

One of the key drivers for continued iPhone purchases, according to Morgan Stanley, is the rate at which Apple users upgrade their phones. Almost three out of every four iPhone users are planning to upgrade within the next two years, while for non-Apple users it's two-in-four.
While investors worry about the potential for iPhone unit declines next year, we see continued support from installed base upgrades helping maintain at least flattish iPhone units in 2016...We believe consensus sell-side and buy-side expectations have converged in the mid-to-high 50M range over the past month, suggesting an in-line to slightly better iPhone quarter.

Before it's here, it's on the Bloomberg Terminal.
LEARN MORE