Miliband Says Cameron Has Overseen U.K.'s Retreat From World
Robert Hutton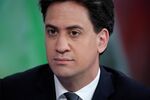 Labour Party leader Ed Miliband made one of his strongest attacks on Prime Minister David Cameron, saying Britain has retreated from international affairs on his watch and laying the Libyan refugee crisis at his door.
With less than two weeks to the general election, Miliband is now the bookmakers' favorite to win. Having weathered years of attacks on his own character from the Conservatives, he replied Friday with a speech that accused Cameron of presiding over "the biggest loss of influence for our country in a generation."
"It is time to reject the small-minded isolationism that has characterized this government, diminished the office of prime minister and shrunk the influence of Britain," Miliband told the Chatham House foreign-affairs research group in London, according to his office.
Miliband accused Cameron of failing to plan for the aftermath of the 2011 fall of Muammar Qaddafi in Libya, of allowing other European leaders to take the lead in negotiations over Ukraine and of taking Britain to the brink of exit from the European Union simply to keep the Conservative Party from splitting.
Cameron dismissed Miliband's attack, telling reporters after a speech in Lincoln, eastern England, that "people will look at these ill-judged remarks and draw their own conclusions."
Policy Blunders
Cameron has had a series of foreign-policy blunders. In the course of one trip in 2010, he managed to anger Israel while on a visit to Turkey and to anger Pakistan while in India. In 2013, he became the first prime minister in more than 100 years to lose a vote in Parliament on military action, when Miliband, under pressure from his own lawmakers, voted against bombing Syria.
EU leaders, including Cameron, held an emergency meeting in Brussels on Thursday to agree on a response to the series of migrant boat disasters in the Mediterranean, many of them caused by refugees trying to flee Libya. The prime minister said he was offering three Royal Navy ships to help.
"The tragedy is that this could have been anticipated," Miliband said of the splits within Libya that have plunged the country into turmoil. "It should have been avoided. And Britain could have played its part."
Cameron, with Miliband's agreement, gave military support to the overthrow of Qaddafi.
Soap Opera
Britain has played a lesser role in the Ukraine crisis. In February, when German Chancellor Angela Merkel and French President Francois Hollande flew to Kiev and Moscow to present a new Ukraine peace initiative, Cameron was on the election trail in northern England, touring the set of Emmerdale, Britain's third-most popular television soap opera.
"Was there ever a more apt symbol of Britain's isolation and waning influence than when the leaders of Germany and France tried to negotiate peace with President Putin and the prime minister of the United Kingdom was nowhere to be seen?" Miliband said.
The Labour leader has made much of his rejection of Cameron's pledge to hold a referendum by the end of 2017 on whether Britain should stay in the EU. Miliband's refusal to hold such a vote is his main pitch to business, as he argues the uncertainty over Britain's future in the bloc would lead to instability and deter investment.
He said Cameron's promise doesn't spring from "any great political principle or ideal -- deep down he doesn't really believe we would be better off out of Europe." Instead, he said, Cameron "has taken us to the edge of European exit because he has been too weak to control his own party."
Before it's here, it's on the Bloomberg Terminal.
LEARN MORE