Loretta Lynch Confirmed as U.S. Attorney General After Five-Month Wait
Kathleen Hunter and Del Quentin Wilber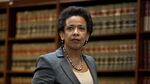 Loretta Lynch was confirmed by the Senate as the first black woman to become U.S. attorney general after a five-month wait marked by partisan fights and Republican arguments that she won't be independent enough from President Barack Obama.
The vote was 56-43, with 10 Republicans joining all Democrats in support. Lynch is replacing Attorney General Eric Holder, who has served in the job since Obama took office in 2009. After Obama nominated Lynch on Nov. 8, a confirmation vote was held up in part because Republicans insisted on first resolving a dispute with Democrats over an unrelated bill.
The president welcomed Lynch's confirmation, saying "America will be better off" with her as attorney general.
"She will bring to bear her experience as a tough, independent, and well-respected prosecutor," Obama said in a statement. Her "confirmation ensures that we are better positioned to keep our communities safe, keep our nation secure, and ensure that every American experiences justice under the law."
The Justice Department isn't likely to dramatically change direction under Lynch. She has worked closely with Holder on many issues and served as his top prosecutor in Brooklyn, New York. She also will have a relatively short tenure to make changes, as Obama is set to leave office in January 2017.
When Obama nominated Lynch, 55, she wasn't expected to run into much turbulence during confirmation because of her personal biography and tenure as a tough-on-crime federal prosecutor. Still, Republicans said they were skeptical that she would be sufficiently independent from Obama, and they criticized her support for his executive actions on immigration.
Regretted Vote
Senate Judiciary Committee Chairman Charles Grassley said during floor debate that he regretted his vote to confirm Holder and that he was opposing Lynch because he's not convinced she will take the Justice Department in a new direction.
"What we need more than anything else out of our new attorney general is independence," said Grassley, an Iowa Republican. "The job is not to simply defend the president and his policies."
One of the Republicans who voted for Lynch was Rob Portman of Ohio, who cited her experience as a prosecutor, including on cases involving national security.
"I believe her long career as a federal prosecutor would bring a different, and less politicized, perspective to the job," Portman said.
The other Republicans were Majority Leader Mitch McConnell of Kentucky, Kelly Ayotte of New Hampshire, Thad Cochran of Mississippi, Susan Collins of Maine, Jeff Flake of Arizona, Lindsey Graham of South Carolina, Orrin Hatch of Utah, Ron Johnson of Wisconsin, Mark Kirk of Illinois.
Black Caucus
During the Senate vote, 10 female House members who are part of the Congressional Black Caucus sat in benches along the side of the chamber and greeted senators who supported Lynch's nomination.
In November, Obama deferred deportation for three years for about 5 million undocumented immigrants -- those who came to the U.S. as children, and parents of children who are citizens or legal permanent residents. He issued the orders after years of inaction by Congress on immigration.
Lynch, at her Jan. 28 confirmation hearing, said the legal underpinnings of the policy were sound. Focusing immigration enforcement and deportation on dangerous and violent criminals was "a reasonable way to marshal limited resources to deal with the problem," she said.
Senator Cruz
Senator Ted Cruz of Texas, a 2016 Republican presidential candidate, skipped the confirmation vote although he voted earlier Thursday not to advance her nomination.
Cruz said on the Senate floor Thursday, "Bringing in a new attorney general should be turning a positive page in this country. But unfortunately the answers that Ms. Lynch gave in her confirmation hearing render her unsuitable."
Cruz spokeswoman Catherine Frazier didn't immediately respond to a request for comment. Another spokeswoman for the senator, Amanda Carpenter, was quoted by BuzzFeed News as saying his vote not to advance Lynch's nomination was "the only vote that mattered" and "after that it was a done deal."
Holder had a toxic relationship with Republicans in Congress. In 2012, the House voted to hold him in contempt in a dispute about turning over documents related to a botched operation to track gun-smuggling called Fast and Furious. Republicans faulted Holder's oversight of the operation and his responses to lawmakers' queries about it.
Judiciary Committee
Lynch pledged at her confirmation hearing to improve relations with lawmakers, but her promise didn't sway most Republicans on the Senate Judiciary Committee.
"Every lawyer has to be independent, the attorney general even more so," Lynch said at the hearing. "I pledge to you that I take that independence very seriously."
She won support from just three of the committee's 11 Republicans -- Orrin Hatch of Utah, Jeff Flake of Arizona and Lindsey Graham of South Carolina -- in the 12-8 vote on Feb. 26.
She didn't offer specifics about how she intends to handle her new job. Among her priorities, she said, would be combating cybercrime and improving relations between police and the communities they serve.
The Justice Department has long been focusing on the surge in cybercrime. It has also worked to reduce tension between police and minority neighborhoods following the deaths last year of two black men at the hands of white police officers in Ferguson, Missouri, and New York City.
'Steadfast Fidelity'
Holder congratulated Lynch in a statement after the Senate vote and said she "has demonstrated an unfailing commitment to the rule of law and a steadfast fidelity to the pursuit of justice."
Lynch, the daughter of a Baptist preacher and a librarian, was a federal prosecutor in the Eastern District of New York for nine years before becoming chief prosecutor in 1999. She left the office in 2001 to enter private practice and returned to the U.S. attorney's post in 2010. Her district covers Brooklyn, Staten Island, Queens and Long Island.
As U.S. attorney, Lynch has a reputation for being tough on terrorism, cybercrime and public corruption. As co-chairwoman of the Attorney General's Advisory Committee, she has deep knowledge of how the Justice Department operates.
With a low-key demeanor, she isn't seen as likely to engage in charged debates over race and national security matters.
"She's not about splash, she's about substance," Obama said when he nominated her in November.
56 Days
The confirmation vote came 56 days after the Senate Judiciary Committee approved her nomination.
"Republicans have been engaged in an unprecedented filibuster of this nominee," Senator Patrick Leahy of Vermont, the top Democrat on the committee, said before Thursday's vote.
In November, during the last few months of Democratic control of the Senate, Republican leader Mitch McConnell of Kentucky said the chamber shouldn't consider confirming Lynch until his party took the majority in January.
This year McConnell, as majority leader, refused to schedule a vote until the Senate passed an unrelated bill to curb human trafficking. The Senate passed it Wednesday after lawmakers resolved a dispute over anti-abortion language in the measure.
The last attorney general nominee to take longer to be confirmed after committee approval was Richard Kleindienst, who served in President Richard Nixon's administration, according to the Congressional Research Service. The Senate spent 100 days considering his nomination after the committee vote. Kleindienst resigned in 1973 amid the Watergate scandal.