Kleiner Tells Pao: Drop Case or Face $1 Million Legal Bill
Robert Burnson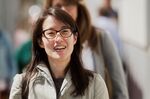 Venture capital firm Kleiner Perkins Caufield & Byers offered to drop its bid for legal costs after defeating Ellen Pao's gender bias claims if she forgoes an appeal.
The firm filed its $1 million reimbursement request a month after a jury soundly rejected the former Kleiner junior partner's claims of discrimination and retaliation and demand for $16 million in damages.
"KPCB has offered to waive all legal costs due to the firm should Ellen Pao choose to bring this legal matter to a close," Christina Lee, a spokeswoman for Kleiner, said in an e-mail. "We believe that women in technology would be best served by having all parties focus on making progress on the issues of gender diversity outside of continued litigation."
Under California law, Kleiner is entitled to recover its court costs, though not its attorney fees, after its successful defense in a discrimination case, Linda McPharlin, an employment lawyer in San Jose, said in a phone interview. Had Pao won, she would have been able to demand that Kleiner pay both her attorney fees and court costs, McPharlin said.
Kleiner's $972,814.50 in costs include $864,680 in expert witnesses fees, $58,878 in deposition fees and $7,181 for court reporter fees, according to the filing in San Francisco state court.
Fee Request
Pao's attorney, Therese Lawless, said she will respond in a court filing to Kleiner's fee request. She declined to comment on whether Pao will appeal.
Pao said after the verdict, which followed four weeks of testimony, that she was ready to move on.
"I have told my story," she said in a March 27 post-trial news conference. "And now it's time for me to get back to my career."
She is interim chief executive officer of Reddit Inc.
Pao claimed that during her seven years at Kleiner, she was subjected to a sexually charged atmosphere, preyed on by male colleagues and ultimately denied a promotion and fired because of her gender.
Kleiner said she didn't succeed because she was hard to get along with, had no experience as an entrepreneur and lacked expertise in strategic markets for investments.
The case is Pao v. Kleiner Perkins Caufield & Byers LLC, CGC-12-520719, California Superior Court (San Francisco).
Before it's here, it's on the Bloomberg Terminal.
LEARN MORE