Jasper Johns's Ex-Assistant Gets 18 Months for Art Theft
Bob Van Voris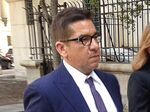 A former longtime assistant to Jasper Johns was sentenced to 18 months in prison after admitting he stole dozens of artworks from the painter's studio and sold them.
U.S. District Judge James Oetken sentenced James Meyer, 53, to prison Thursday in a Manhattan courtroom filled with family and supporters. Oetken rejected pleas from Meyer's lawyer for a sentence of probation or home confinement.
"I am truly devastated that I destroyed the close relationship that I had with the man who was my mentor, employer and friend since I was 21 years old," Meyer told Oetken, occasionally breaking down with emotion. "I took for granted and betrayed someone who will forever have great meaning in my life."
Prosecutors claimed Meyer stole pieces from Johns's studio, beginning at least as early as 2006, and kept works the artist had instructed him to destroy. Meyer turned 42 works over to an unidentified Manhattan gallery owner who sold most of them, for a total of $10 million.
After his arrest in August 2013, Meyer cooperated with the government and helped recover stolen works from the buyers, prosecutors said. He also turned over 41 additional works that investigators didn't know about. Meyer pleaded guilty last year to a single count of transporting stolen property.
"Mr. Meyer is in every other way a very good man," Oetken said, declining a government request for a sentence of as long as three years and 10 months.
$13.5 Million Restitution
In addition to the prison sentence, Oetken ordered Meyer to pay $13.5 million in restitution to Johns and four unidentified buyers and to forfeit the $4 million he made from the scheme. He must serve two years of supervised release when he gets out of prison.
Prosecutors said Meyer created fake inventory numbers for the pieces to give the impression they were finished works, authorized by Johns to be sold. He also created fake pages for the works that were made to appear as if part of a ledger book of registered pieces kept at the studio, they said. These pages, which he photographed, contained notes that the works had been "gifted" to Meyer.
Meyer required each buyer to sign an agreement that the artworks be kept private for at least eight years and not loaned, exhibited or re-sold during that time, the U.S. said.
Flag, Map
Johns, 84, is "one of the most significant and influential American painters of the 20th century," according to the website of New York's Metropolitan Museum of Art. He is known for paintings of the American flag, targets, numbers and a U.S. map.
At Meyer's request, Oetken recommended he be assigned to a minimum-security prison camp in Ayer, Massachusetts. Other inmates at the facility include former Goldman Sachs Group Inc. director Rajat Gupta, who is serving a two-year sentence for insider trading.
Oetken recommended that Meyer be allowed to participate in an inmate dog-training program at the camp.
The case is U.S. v. Meyer, 13-cr-00604, U.S. District Court, Southern District of New York (Manhattan).