Japan Farmers Cultivate Rice's Mystique as Barrier to Deal
Alan Bjerga and Aya Takada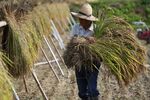 A powerful lobby stands in the way of two of the world's biggest economies completing a trade deal: Japanese rice farmers.
Rice is the island-nation's staple grain and a powerful symbol of self-sufficiency. It is also among the thorniest issues holding up an agreement the two nations hope to unveil when Prime Minister Shinzo Abe and President Barack Obama meet in Washington next week.
"Rice is a social and political force. There is nothing quite like it in the U.S.," said Tom Slayton, a former senior rice trade analyst at the U.S. Department of Agriculture who implemented an earlier U.S.-Japan rice agreement in the 1980s. "The Japanese are protecting a dinosaur, but it's a dinosaur with a lot of clout."
Negotiators have been working for months on a deal that could become a part of a global deal being hammered out among 12 Pacific countries. The so-called Trans-Pacific Partnership would link economies making up 40 percent of the world's gross domestic product and strengthen U.S. alliances in Asia, key trade and foreign policy goals for Obama.
If the U.S., the world's biggest economy, and Japan, the third-biggest, can strike a bilateral deal, it would help pave the way for the larger accord.
Autos and agriculture have become the final snags. Japan wants the U.S. to eliminate a U.S. import tariff that was put in place to protect an industry that supports 900,000 manufacturing jobs. U.S. farm groups want Japanese trade restrictions lifted - - including for rice -- further opening a market that's already the biggest U.S. buyer of beef and pork.
Large Market
The U.S. was Japan's largest export market and second-biggest source of imports in 2013, according to the most recent government data. Last year, the U.S. sold $67 billion of goods to Japan and bought $133.9 billion worth.
The U.S. is the world's fifth-biggest exporter of rice, trailing Thailand, India, Vietnam and Pakistan. Japan, where the grain has been culturally and economically important for millennia, imports almost none.
"The Japanese have always been very, very tough negotiators on agriculture issues. We've made progress, but rice is one of the fences that are still up," said John Block, who served as U.S. Agriculture Secretary under President Ronald Reagan.
Hiroshi Oe, Japan's TPP ambassador, said rice is considered a politically sensitive product that must be protected, along with other grains, beef, pork, dairy and sugar crops. Japanese economic minister, Akira Amari, said Wednesday that rice is "100 times" more important to Japan than the U.S.
'Continued Negotiations'
Getting Japan to open on rice requires "continued negotiations," U.S. Agriculture Secretary Tom Vilsack said on Tuesday, declining to offer any specifics.
Part of Japan's hesitancy to change its rice policy comes from the lobbying power of its farmers. The nation's union of farmer cooperatives, JA-Zenchu, has enjoyed special status since shortly after World War II, growing from an organization that fended off famine to a politically connected conglomerate that distributes farm supplies, sells agricultural products and dominates rural lending.
With nearly 10 million members, its influence in the ruling Liberal Democratic party has long kept Japanese farmers protected from the consolidation, displacement -- and efficiency -- of globalization. That's created a domestic market in which Japanese rice reigns supreme. Imports, begrudgingly allowed in a quota system agreed to under the World Trade Organization, remain unsold and unwanted.
The Pacific trade accord might change that.
Boost Buying
Japan may agree to boost purchases of U.S. rice by as much as 100,000 metric tons a year while leaving the tariff-quota system in place, according to Masayoshi Honma, agricultural and resource economics professor at the University of Tokyo. Last year Japan bought 288,471 tons of rice from the U.S., worth $272 million, according to U.S. trade statistics.
"Japan is poised to increase rice imports, which is different from freeing up the market entirely," said Masaki Kuwahara, economist at Nomura Securities Co. in Tokyo. "I don't expect the U.S. and Japan to sacrifice TPP deal because of their disagreement over rice imports. Both governments basically agree that Japan must increase rice imports from the U.S. for the deal."
Still, Japan's rice market isn't growing. The agriculture ministry forecasts a 1 percent decline in consumption to 7.8 million tons in the year to June 30.
'Unnecessary Concessions'
Falling consumption, the result of economic growth and diversifying diets over the past five decades, means imports don't need much of a boost, Japan Agriculture Minister Yoshimasa Hayashi said on Monday. A deal won't happen just because Abe is coming to Washington, he said.
"We won't make unnecessary concessions just to make it to various events such as the top-level meeting," Hayashi, 54, said. "What matters is content."
U.S. rice producers say Japan's offer is insufficient and want "a significant improvement in the quantity and quality of access" to the Japanese market, said Michael Klein, a spokesman for the Arlington, Virginia-based USA Rice Federation. "What is apparently being offered by the third largest economy in the world is far beneath the ambition of the TPP," he said.
Japanese farmers have pressured the government to reject an agreement, with JA-Zenchu organizing rallies against a deal across the country. The group has become a leader among Japan's globalization skeptics, said Koichi Nakano, professor of politics at Sophia University in Tokyo.
Weakening Grip
Still, signs are already evident that rice's grip is weakening as Abe pushes for structural reform in Japan's economy.
The Liberal Democratic Party in February announced plans to revise the nation's agricultural cooperative law to deprive it of the ability to supervise and audit local farming groups, a move designed to dilute JA-Zenchu's power and cut the fees it collects from members.
The government also has eased curbs on corporate farm ownership and created land banks to merge small holdings into large tracts, a way to wring inefficiencies out of a system still populated by aging farmers tending small plots of land. The nation has set a goal of doubling food exports by 2020, with beef exports surging fivefold.
Surmountable Issue
Akira Banzai, chairman of JA-Zenchu, earlier this month resigned, saying reforms would be needed under a new chairman. Japan has already given some ground on TPP, agreeing to lower beef and pork import tariffs, products for which Japan is already the biggest importer of U.S. goods.
In the end, the stumbling block is surmountable amid the emotion enveloping the issue, said Jeff Kingston, director of the Asian Studies program at Temple University's Tokyo campus.
"The Japanese public is easily aroused over rice because it is intrinsic to national identity, but figuring out a mechanism that would crack open the market a bit more is doable," he said. "There will be a lot of grandstanding on this issue, but it is too marginal to scupper a deal that both sides want as much for geopolitical reasons as for economic benefits."
Before it's here, it's on the Bloomberg Terminal.
LEARN MORE