Jain's Deutsche Bank Strategy Decision Looms After Fine
Elena Logutenkova and Shane Strowmatt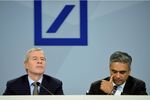 Anshu Jain resolved one of his toughest challenges yet as Deutsche Bank AG co-chief executive officer, settling probes into interest-rate rigging with the lender's record fine. He has little time to pause.
The bank's management may decide as soon as Friday whether to reverse an expansion into consumer banking with a full or partial sale of the business, two people with knowledge of the discussions have said. It will probably be the bank's biggest overhaul since Jain and co-CEO Juergen Fitschen took the helm almost three years ago.
Jain and Fitschen are working on a strategy rethink to bolster Deutsche Bank's profitability as regulators demand more capital and swings in trading activity slowed a recovery in returns at the securities unit. The bank must win over investors, battered by the worst performance among global peers, as concern about the firm's legal cases and the company's ability to improve profit weighed on the stock.
"It's only a partial victory," Philipp Haessler, an analyst at Equinet Bank AG in Frankfurt with a neutral rating on Deutsche Bank stock, said of the settlement. "The new strategy has to work this time -- I don't think management will get another chance. The bank really isn't any better off than when CEO Josef Ackermann left."
Market Rigging
Deutsche Bank rose 1.2 percent to 31.78 euros at 9:50 a.m. in Frankfurt trading. The stock has gained 15 percent during the tenure of Jain and Fitschen, making it the worst performer among banks tracked by the 10-company Bloomberg investment banks index, which rose 86 percent.
Deutsche Bank on Thursday agreed to pay $2.5 billion to settle four investigations in the U.S. and the U.K., with the largest sanction for interest-rate market rigging. While no current or former member of the management board was found to have been involved in or aware of the misconduct, the company said, it was ordered to fire seven more employees.
The bank said Wednesday it will report a first-quarter profit on near-record revenue even after booking 1.5 billion euros ($1.6 billion) in litigation costs.
"It's a good thing that they've settled Libor, but we still have the capital issue," said Andrea Williams, who heads European equities at Royal London Asset Management Ltd.
Postbank Sale?
The bank is reviewing the possibility of exiting consumer-banking business including Postbank, which the company acquired in stages after the 2008 financial crisis to boost its access to cheap funding from customer deposits.
"It's a bit of a U-turn," Williams said on possible Postbank sale. "I don't think the disposal would give them that much capital in the short term and they'd be getting rid of that deposit source."
The management is set to recommend selling Postbank, while retaining other consumer activities, the Financial Times reported Thursday, citing people familiar with the situation.
The sale may reduce by 11 percent Deutsche Bank's leverage exposure against which the company needs to hold equity, according to estimates by JPMorgan Chase & Co. analysts Kian Abouhossein and Amit Ranjan.
Investment Bank
Deutsche Bank received about a third of total funding from retail deposits at the end of last year, a third of which were placed at Postbank.
The acquisition of Postbank was part of the previous management's strategy to boost Deutsche Bank's stable businesses and counter often-volatile earnings from the investment bank.
Jain raised cash from investors last year to bolster returns from debt trading by taking market share from rivals exiting the market. The European Central Bank's latest stimulus policies this year are putting more pressure on profits as interest rates remain at record lows.
Deutsche Bank needs to cut 1.4 billion euros in costs and 14 percent in leverage exposure at the securities unit to boost returns, JPMorgan analysts have said. Reductions may be needed in the interest-rate and credit trading businesses as well as in equity derivatives and the business providing services to hedge funds, they said.
"The management has one last chance to get it right," said Alevizos Alevizakos, an analyst at Keefe Bruyette & Woods in London.
Before it's here, it's on the Bloomberg Terminal.
LEARN MORE