India Tax Surprise Spurs Rupee Bond Outflows as Modi Magic Fades
Kartik Goyal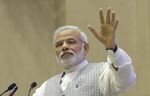 Foreign investors are turning net sellers of Indian bonds for the first time in 12 months as a debate over retrospective tax on capital gains reinforced concerns that bureaucracy will be hard to unravel.
Global funds have pared holdings of rupee-denominated debt by $242 million this month, on course for the first withdrawal since April last year, data compiled by Bloomberg show. The rupee has lost 1.4 percent, set for its worst month in 2015, as Macquarie Bank Ltd. and Aberdeen Asset Management Plc urge policy makers to provide clarity on taxation rules.
The demand for back-dated Minimum Alternative Tax threatens to undermine foreign funds' perception of the one-year old government, after Prime Minister Narendra Modi campaigned on promises of cutting red tape for investors. An inefficient bureaucracy and a maze of regulations caused India's rank to drop to 142 of 189 countries on the World Bank's latest Ease of Doing Business Index, while China rose several notches to 90.
"The fear of inconsistency in policies is spooking foreign investors," Nizam Idris, head of foreign-exchange and fixed-income strategy at Macquarie Bank Ltd. in Singapore, said in an April 22 phone interview. "This is a retrospective tax pulled out of nowhere and imposed on current investors and the fear is that there could be other things that the government could do to extract more tax revenue from investors."
'Touchy Issue'
Finance Minister Arun Jaitley in his budget speech in February said overseas funds don't need to pay a 20 percent tax on capital gains from April 1. He reiterated that in an interview to a local television channel this month, while clarifying that investors will have to pay the levy for prior financial years, involving a sum of about 400 billion rupees ($6.3 billion).
The Central Board of Direct Taxes this week said foreign portfolio investors can use tax treaties to reject demands on past capital gains, seeking to defuse the row as it threatened to jeopardize the $57 billion global funds have pumped into Indian stocks and bonds since the end of 2013.
"It's a very touchy issue for a whole host of foreign investors and they have all been taken aback," Ananth Narayan, the Mumbai-based head of South Asia financial markets at Standard Chartered Plc, said in an interview with Bloomberg TV India on April 22. "It's gone to the bad old days where people were not clear about the rule of law in India. It's very critical that we get a quick closure on this."
Tax Disputes
Tax issues have prompted a joint venture between New York-based investment manager Blackstone Group LP and the Embassy Group to shelve plans to list a $2 billion real estate investment trust in India, the Business Standard newspaper reported on Friday.
India already has a number of tax disputes involving foreign entities. Cairn India Ltd. is contesting a $3.3 billion claim on gains made by its former UK-based parent in a share transfer pricing case, while a dispute over British telecom company Vodafone Plc's 2007 acquisition of Hutchison Whampoa Ltd.'s Indian business is going into international arbitration.
Jaitley in the budget delayed implementation of the so-called General Anti-Avoidance Rules, or GAAR, until April 2017. The rules, which seek to prevent companies from routing transactions through other countries to avoid tax, had spooked foreign investors when first proposed in 2012.
The MAT issue comes at a time when gains across India's financial markets are reversing, signaling investors' dwindling fixation with Modi as opposition politicians hamper his ability to push through reforms to attract foreign capital.
Bonds, Stocks
After rallying for five straight months through January in their longest winning run since 2008, India's sovereign bonds are now losing steam despite two interest-rate cuts by the central bank this year. The benchmark 10-year yield has risen seven basis points or 0.07 percentage point, since end-January to 7.76 percent in Mumbai on Friday.
Strategists are lowering estimates for the S&P BSE Sensex index for the first time in six quarters as India's benchmark equity gauge, which surged about 40 percent in the 12 months through February, tumbled 4.8 percent in March in its biggest retreat in 25 months. It has lost another 1.3 percent in April.
"What investors are immediately doing is reduce the positions and see how things pan out from here," said Macquarie Bank's Idris. "The retrospective tax, which the investors are seeing as unfair explains the negativity on Indian assets for now. For a lot of investors who came in earlier, this is good excuse to book in profits as well."
'Too Crowded'
The rupee, which rallied in January and February, has erased all of its 2015 gain and is now down 0.6 percent this year, hurt also by a slump in exports. The currency weakened 0.1 percent on Friday to 63.41 a dollar.
India has been a consensus trade and one of the main concerns is that it has become too crowded, Irene Cheung and Khoon Goh, senior currency strategists at Australia & New Zealand Banking Group Ltd. in Singapore, wrote in an April 23 report. The retrospective nature of the tax demand may also hurt sentiment, they wrote.
"If there's any uncertainty about what investors are supposed to be paying, policy makers should really step in as soon as possible and clarify that," Kenneth Akintewe, a fixed-income fund manager at Aberdeen Asset, said in a April 22 phone interview from Singapore. "Our exposure to India is still steady and we haven't pulled any money. It still looks one of preferable emerging markets."
Before it's here, it's on the Bloomberg Terminal.
LEARN MORE