IFS Says Britons Left in Dark Over Post-Election Spending Plans
Svenja O'Donnell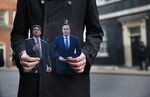 (Bloomberg) -- Britons are being left "somewhere in the dark" about the scale of spending cuts or tax increases facing them after the election, as a lack of detail masks differences between the two main parties, the Institute for Fiscal Studies said.
Based on published manifesto commitments, Prime Minister David Cameron's Conservatives are planning "significantly larger" cuts in borrowing and debt, though these are based on "unspecified" spending reductions, the London-based IFS said on Thursday. Labour plans lack clarity on their overall fiscal goal but appear to promise few further spending cuts after this year.
Both parties have consistently attacked each other's fiscal plans, with Labour leader Ed Miliband on Thursday accusing the Conservatives of preparing "extreme" spending cuts and Tory Chancellor of the Exchequer George Osborne warning of a "dangerous cocktail" of a Labour government supported by the Scottish National Party, which wants an end to austerity. Neither, the IFS suggests, has provided enough detail to allow voters to fully make up their minds.
"There are genuinely big differences between the main parties' fiscal plans," Deputy Director Carl Emmerson said. "The electorate has a real choice, although it can at best see only the broad outlines of that choice."
Labour and the Tories remain deadlocked in opinion polls two weeks before the election, with neither on course to gain enough seats in the House of Commons to govern alone.
Deficit Challenge
Whichever party wins on May 7 faces a budget deficit of almost 5 percent of gross domestic product five years after Cameron's coalition of Tories and Liberal Democrats took office in the wake of the financial crisis. In 2010, it stood at 10.2 percent, the largest in British peacetime. Net government debt has grown by more than a half to 1.4 trillion pounds ($2.1 trillion), or 80.4 percent of GDP.
Osborne has pledged to return to budget to outright surplus by 2018, requiring what the Office for Budget Responsibility says are cuts larger than anything seen over the past five years. Labour says it intends to balance the books by 2020 at the latest, but keep borrowing for capital investment.
The IFS analysis shows that under Conservative plans, the national debt would fall to 72 percent of the economy by the end of the next parliament in 2020, compared with 78 percent under Labour, a difference of 90 billion pounds.
The Tories would need to raise 5 billion pounds in "largely unspecified" anti-avoidance measures, cut 30 billion pounds in unprotected departmental spending and reduce social-security spending by 10 billion pounds, the IFS said.
Labour would only reduce spending by 1 billion pounds, though this would depend on it raising 7.5 billion pounds through anti-avoidance measures, it said.
To contact the reporter on this story: Svenja O'Donnell in London at sodonnell@bloomberg.net
To contact the editors responsible for this story: Alan Crawford at acrawford6@bloomberg.net Andrew Atkinson, Eddie Buckle
Before it's here, it's on the Bloomberg Terminal.
LEARN MORE