Honda's Jet Plane Takes Maiden Japan Flight Ahead of U.S. Sales
Ma Jie and Yuki Hagiwara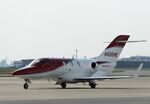 Honda Motor Co.'s first jet plane made its maiden Japanese flight as the company seeks to boost its reputation for cutting-edge technology.
The seven-seat aircraft took off from the northern city of Sendai and landed at Tokyo's Haneda airport Thursday afternoon, said Kosuke Kachi, a Honda spokesman. The company is in line to obtain final approval for the plane from the U.S. Federal Aviation Administration and plans to start deliveries to U.S. customers later this year.
The demonstration of the aircraft, which has been under development for three decades, comes after Honda's reputation was marred by record recalls of cars last year. The carmaker has revamped the management of its research unit, returned to Formula One as an engine supplier and introduced a mini-sportscar in Japan this year. President Takanobu Ito will also step down in June after leading the company for six years.
Honda has received orders for more than 100 of the jets, HondaJet Aircraft President Michimasa Fujino has said. The company may consider selling the aircraft in Japan if there's a potential market, he said in February.
The location of the jet's engines, which unlike conventional planes are on top of the wings, will increase fuel efficiency by about 15 percent and allow cabin space to be as much as 20 percent roomier than in comparable aircraft, according to the company. With a cruise speed of 778 kilometers per hour (420 knots), the jet is also faster and more resistant to turbulence, Honda has said.
Before it's here, it's on the Bloomberg Terminal.
LEARN MORE