My Universe Is Bigger Than Your Universe
As Marvel's Avengers swallow up the box office, everyone is looking for a superhero
By and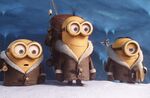 Ivan Reitman produced and directed the hit 1984 comedy Ghostbusters and its sequel five years later. Now the longtime Hollywood player has bigger plans—for a whole ghostbusting universe. He's working on the Sony Pictures Entertainment lot with Dan Aykroyd, one of the franchise's original stars; director Paul Feig; and a bevy of new comedians, led by Kristen Wiig and Melissa McCarthy, in an all-female version of the story. To help guide him, Reitman has created a bible (an in-depth rundown of characters, history, and rules for their fictional world) to refer to as he produces the film, slated for a July 2016 release. His new Ghost Corps production company will use the same playbook as it churns out TV shows, character merchandise, and possibly an animated feature based on the ghost-hunting Ph.D.s.
"It's a way to stand out in a very crowded market," Reitman says. "If the movies are good, and the word of mouth is good, when there is a universe of films, it has a multiplier effect."
In Hollywood it's not enough anymore to make a blockbuster like Mission: Impossible or The Terminator and churn out a sequel every few years. Studios are thinking in terms of a cinematic universe, a term coined by Walt Disney's Marvel Studios for its strategy of cross-pollinating its films with common characters, settings, and plot elements. The resulting web of stories has created a box-office lineup that's both deeper and easier to keep fresh.
The larger family of interconnected characters also has let Disney expand the universe beyond the big screen. The Agents of S.H.I.E.L.D. series, which has featured characters from Marvel's Thor and the Avengers movies, appears on Disney's ABC Television network. And there are Disneyland theme-park meet-and-greets with Captain America, who appears in two of his own films and both Avengers movies. ABC's Agent Carter and Agents of S.H.I.E.L.D. series also share plot points with the films.
Since Marvel introduced its cinematic universe in 2008, the 10 films it had released by late April have grossed more than $7.2 billion worldwide, according to Box Office Mojo. Two of the films, Marvel's The Avengers and Iron Man 3, are among the 10 biggest-selling movies of all time.

The potency of the universe strategy will factor prominently in Marvel's lineup this year. In Avengers: Age of Ultron, opening on May 1, icons Captain America, Hulk, Thor, and Robert Downey Jr.'s Iron Man take a break from their solo movies to jointly crack jokes while saving the world. Their previous ensemble effort, 2012's Marvel's The Avengers, logged $1.5 billion in global ticket sales. But trailers for the film have teased that some new backbenchers will also get screen time in this second installment, introducing characters who later can move to their own films or play a larger role in coming Marvel flicks such as Captain America: Civil War, due out in May 2016.
"Creating a universe is as important as creating a franchise and actually has a greater overall, long-term power to draw audiences," says Paul Dergarabedian, senior media analyst at researcher Rentrak.
In July, Disney will try to expand its universe further when it releases Ant-Man, starring another Marvel hero. And Disney's Lucasfilm unit is stretching its three coming Star Wars sequels into at least six movies by alternating each of them with spinoff films drawn from the Star Wars universe.
Time Warner, owner of DC Comics, also plans to mine an existing trove of well-known comic book characters. Its Warner Bros. studio has already released a trailer for next year's Batman v Superman: Dawn of Justice superhero mashup. The studio plans 10 films based on DC characters through 2020, including a standalone Wonder Woman and The Justice League Part One, a kind of crime-fighter all-star team, both in 2017. On April 20, the company confirmed the release dates of three Lego films, including Lego Batman in February 2017. At least three films of a Harry Potter spinoff, Fantastic Beasts and Where to Find Them, are also in the works for release starting in 2016.
Ghostbusters could prove a tougher test for Sony, as the franchise hasn't seen the big screen for 26 years. Reitman says the Ghostbusters brand has maintained its value, making it ripe for expansion. He envisions something other than the effects-driven superhero flicks that dominate studio slates. "There is so much of the same," he says. "You can only blow up New York so many times."
Universal Studios is mining its library of classic monster films, starting with a remake of The Mummy next year. Analysts see a sure bet in the studio's Minions, a prequel to its hit Despicable Me movies. It's projected to be one of this summer's biggest films. The animated picture tells the back story of the little yellow creatures who speak an indiscernible language and do the bidding of the supervillian Gru. Universal already has Minions-based theme-park rides in Florida and California, and a third Despicable Me movie is set for 2017.
"I do think that cinematic universes are becoming more prevalent," says producer Akiva Goldsman, who's working on plans to create an "idea farm" for Paramount Pictures' four-film franchise based on Hasbro's Transformer brand. Developing story lines over a longer period makes successful films more likely, says Goldsman, who compares what he's doing with Transformers to how groups of TV writers routinely huddle in a "writers room" for hours to flesh out a story line. "You are likely to have a deeper relationship with a character if you get to spend more and more hours with them," he says. John Frascotti, president of Hasbro brands, says the company also has written a 350-page bible that spans the genesis of the robot species on their home planet, Cybertron, and beyond. Although a fifth film is slated for 2017, less than a quarter of these stories have been used, he says. "The source material is so rich," Frascotti says, "we've only mined a small portion so far."
Marvel figures into the universe plans of other studios, as well. Spider-Man, whose movie rights have been held by Sony since Disney bought the comic company, will appear in a future Marvel film, under a deal announced in February. Other Marvel characters may appear in Sony's future Spider-Man films. 21st Century Fox, meanwhile, is giving standalone features next year to Deadpool and Gambit, two characters from its X-Men franchise (another deal struck when Marvel wasn't making its own films). Sandwiched between will be X-Men: Apocalypse in May 2016.
Cowen & Co. analyst Doug Creutz says the risk is that so many studios' "nearly identical" franchise strategies will damage the ecology of the film business. "There is something to be said for leaving audiences hungry and wanting more," says Phil Contrino, chief analyst with BoxOffice.com. "Next year will be crucial for 'universes.' From 2016 onward we will see if the strategy can be pulled off."
—With Matt Townsend
The bottom line: The 10 Marvel films have pulled in $7.2 billion at the box office. That success has other studios copying the strategy.
Before it's here, it's on the Bloomberg Terminal.
LEARN MORE