Tsipras Said to Ask Merkel for Greek Deal by End of April
Eleni Chrepa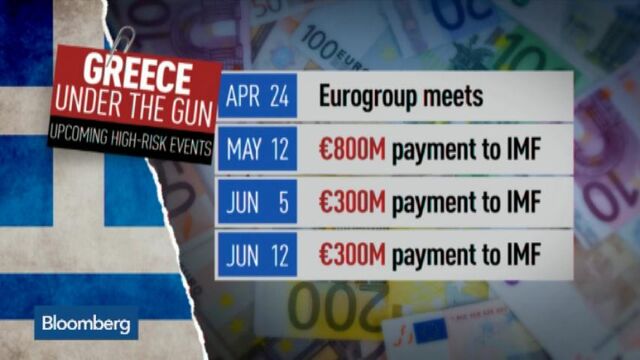 Greek Prime Minister Alexis Tsipras urged an acceleration of talks with the country's creditors to strike a deal by the end of this month, saying that "a big part of the distance has been covered."
Tsipras met with German Chancellor Angela Merkel, French President Francois Hollande and European Commission President Jean-Claude Juncker on the sidelines of a summit in Brussels. "I'm very optimistic we are closer than before" to an agreement, Tsipras told reporters late Thursday. Merkel, Hollande and Juncker didn't give details on the meetings.
"Everything has to be done" to ensure Greece will be able to make its payments, Merkel told reporters in Brussels after the summit. Merkel declined to assess the risk of Greece's ability to make creditor payments in coming weeks.
Tsipras made a request to Merkel for talks to accelerate at a one-hour meeting before the summit on immigration started, according to a Greek government official, who spoke on condition of anonymity. The bilateral meeting was held in a "very good climate," the official said.
Greece and its creditors have found common ground on the target for the country's primary budget surplus being set at 1.5 percent of economic output for 2015 and also converge on the 2016 target, the official said, without specifying the 2016 figure. The two sides also have converged on privatizations, the official said without providing details.
'More Time'
European Commission Vice President Valdis Dombrovskis said "it will apparently take some more time" beyond the end of April to reach an agreement. "There is still a lot of work to be done," Dombrovskis told reporters Thursday in Berlin, adding that the EU needs "to see real progress in implementation" in order to complete the program review.
Failure to reach a deal would be viewed in Greece as a political event and would have to be dealt with in a political manner, another Greek government official said earlier when asked about the prospect of snap elections or a referendum. Such scenarios are viewed as being hypothetical and not part of the government agenda, this person said.
Greece and its creditors haven't discussed having the country miss a payment to the International Monetary Fund or default as agreement over bailout disbursements remains beyond reach, this official said.
Economic Reforms
Talks on Friday will shift to Riga, Latvia, where euro-area finance ministers will attempt to persuade Greece to commit to economic reforms so that aid payments can be released before the country runs out of money.
"The Greek government has got to show some backbone in its reform efforts," European Union Economic Commissioner Pierre Moscovici said on Thursday in Brussels. "Time is of the essence and it's really an urgent matter."
Greek stocks and bonds rose for a second day on Thursday. The yield on three-year government bonds fell 262 basis points to 25 percent at 6:20 p.m. local time, while the Athens Stock Exchange General Index rose about 2 percent.
In an effort to avert a breakdown in communication, Tsipras's office and leaders of creditor institutions have established a hotline for direct contact, according to two people familiar with the matter.
Regular Contact
The hotline group is comprised of Greek Minister of State Nikos Pappas; Juncker's economic adviser, Luc Tholoniat; European Central Bank Executive Board member Benoit Coeure; and the IMF Europe Director Poul Thomsen. The group is in regular contact and acts to avert crises and resolve disputes, according to one of the officials. Its first meeting was on March 26.
Merkel signaled on Wednesday that she won't back off on Germany's insistence on "reforms in combination with solid finances" in the euro area. Germany "will continue to call for this course of action, even though we sometimes face considerable pressure internationally," she said at an event in Berlin, without mentioning Greece.
Earlier this week, Tsipras ordered local governments to move their funds to the central bank. The move will help him meet end-of-month salary and pension payments, though it will also further drain commercial banks of their deposits.
Euro-area finance ministry officials expressed doubts during a Wednesday call about whether Greece's incremental progress would be enough to unlock emergency loans, according to two people familiar with the matter. Greece's refusal to privatize state assets, change its pension system and deregulate the labor market were the main stumbling blocks, one of the people said. The people asked not to be identified because Euro Working Group discussions aren't public.
Greek Finance Minister Yanis Varoufakis said on Tuesday that, while there was a clear convergence of views between the sides, the Latvian meeting is too soon to seal an agreement. The best chance for success is an accord that leaves all parties somewhat unsatisfied, as a failure would be "catastrophic," he said in Athens.
Before it's here, it's on the Bloomberg Terminal.
LEARN MORE