Google's Schmidt, Kordestani Get $130 Million Combined 2014 Pay
Anders Melin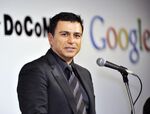 Google Inc.'s Chief Business Officer Omid Kordestani and Executive Chairman Eric Schmidt joined the Bloomberg Pay Index after being awarded almost $130 million in 2014.
Kordestani was awarded $97.7 million and Schmidt received $31.6 million, according to the ranking, which values compensation as of a company's fiscal year end. That ranks them No. 6 and No. 78 on the index, respectively.
Kordestani, who replaced Nikesh Arora as Google's chief business officer in July, was awarded 108,282 shares meant to compensate him for two years and an additional one-time grant of 117,306 restricted shares, according to an April 23 filing from the Mountain View, California-based company. His pay package for 2014 also included a $237,500 salary and $6.5 million cash bonus.
Schmidt received 87,862 restricted shares valued at $100.4 million when they were granted. Google said in the proxy the award is meant to compensate him for four years. The Bloomberg ranking annualizes awards intended for multiple years. Schmidt also received a $1.25 million salary and a $6 million cash bonus.
Google typically gives equity awards to its executives in only even-numbered years. This "encourages executives to take a long-term view of the business," according to the filing.
Billionaires Larry Page and Sergey Brin, co-founders of the world's biggest Internet search engine, received no other compensation besides a $1 salary, the filing showed.
Rob Shilkin, a Google spokesman, didn't respond to an e-mail seeking comment.
Before it's here, it's on the Bloomberg Terminal.
LEARN MORE