GM Falls After First-Quarter Profit Misses Analyst Estimates
David Welch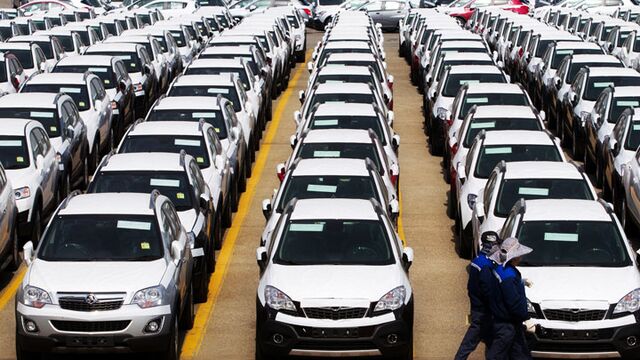 General Motors Co.'s first-quarter profit of $900 million missed estimates as struggles in Russia and Brazil undermined strong sales of light trucks in the U.S.
The company said that adjusted earnings per share almost tripled to 86 cents, short of the average analyst estimate for 97 cents. A year earlier, the company earned 29 cents on that basis, the largest U.S. automaker said in a statement. GM took a charge of about $400 million for restructuring its operations in Russia. Shares fell 3.3 percent Thursday to close at $35.92.
The less-than-estimated profit shows that while sales of pickups and sport utility vehicles in GM's home North American market remain strong, the automaker still faces challenges in pivotal overseas markets in Europe and South America, where sluggish economies and political turmoil are making GM's turnaround plans difficult.
Currency exchange rates hurt GM's financial performance in the quarter as the Russian ruble and Brazilian real both tumbled, GM Chief Financial Officer Chuck Stevens told reporters at the company's Detroit headquarters. GM imports a lot of parts for the cars it builds in Russia, which hurt financial results, he said.
"You'll see we're down $1.7 billion in revenue," Stevens said. "That is more than explained by currency." First-quarter sales totaled $35.7 billion, down from $37.4 billion.
Analysts have been projecting stronger results -- including $38.2 billion in first-quarter sales -- since the company signaled at a conference in January that its full-year performance would be better than the company had anticipated. Low interest rates and gasoline prices continue to boost auto sales, especially for high-margin trucks, and GM's profits have followed.
Key Regions
North America and China are keeping GM's results solid. The automaker said this week that global vehicle sales rose 2 percent in the first quarter to 2.4 million vehicles thanks to a 6.1 percent jump in North America, where it earned $2.2 billion, and a 9.4 percent increase in China. Sales in Europe fell 14 percent, GM's South American business showed a 15 percent decline and its other international markets, which do not count China, reported a 2.3 percent sales drop.
Stevens said strong truck sales in North America helped the company's earnings by about $500 million. GM is on track to meet its 2016 target of 10 percent adjusted EBIT margin in the region, compared with 8.8 percent in the first quarter.
GM reported a $239 million operating loss in Europe, compared with $284 million a year earlier. After losing $1.4 billion in the market last year, Stevens said the company remains on target to end losses there next year.
South America
In South America, where GM is also trying to spark a turnaround, the company lost $214 million, compared with a loss of $156 million a year earlier.
Stevens said GM is moving to aggressively cut jobs and production in the face of a Brazilian car market that is down 20 percent this year. The cuts should generate $200 million in annual savings, he said.
"Clearly the environment in South America has deteriorated even from where we though it would be," Stevens said. "We're taking actions to mitigate that impact."
GM shares have gained 2.9 percent this year through Thursday as the Standard & Poor's 500 Index gained 2.6 percent.
Stevens said GM bought back about $400 million of stock through Wednesday as part of a planned $5 billion share repurchase program.
The company also took a charge of $150 million related to its year-old ignition-switch recall. With that charge, GM has set aside $550 million for a fund to compensate victims who were injured or killed in accidents related to the ignition switch. Stevens said he expects the fund won't exceed $600 million.
GM recalled 2.59 million small cars to replace a faulty ignition switch. As of April 17, 87 deaths have been linked to the defect. The company called back more than 30 million vehicles in North America last year including a record 26.9 million in the U.S.
Before it's here, it's on the Bloomberg Terminal.
LEARN MORE