Germany Recognizes Armenian Killings in 1915 as Genocide
Brian Parkin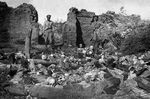 German political leaders for the first time labeled the killing of hundreds of thousands of Armenians under Turkish rule 100 years ago as genocide, saying the recognition was overdue.
Chancellor Angela Merkel's ruling coalition presented a parliamentary resolution Friday that describes the campaign against Armenians as genocidal and says German actions at the time were partly to blame. That echoed a speech by German President Joachim Gauck in Berlin late Thursday.
"We have to understand that the denial of this genocide has a special role for Turkey's national identity," Norbert Roettgen, a member of Merkel's Christian Democratic Union who heads the lower house's foreign affairs committee, said in a speech to parliament. "We can't condone that with silence. Even 100 years later isn't too late. This is overdue."
Germany has faced pressure from some European partners to follow their example and confront Turkey about the killings and deportations that began in April 1915 during World War I. German-Turkish ties and Germany's wartime alliance with the Ottoman Empire have held back condemnation until now.
France, Russia, Greece, Sweden and the Netherlands are among countries that recognize the killings as genocide and are sending senior representatives to commemorations Friday in Yerevan, the Armenian capital. Merkel isn't attending and is sending a junior foreign minister instead.
Germany is Turkey's biggest trading partner in the European Union, its biggest foreign investor and home to the largest group of Turks outside the country. Turkey acknowledges the killings, while saying they weren't genocide.
Modern Turkey
Recognizing genocide "isn't an attack on the reputation of modern-day Turkey," said Bernd Fabritius, a lawmaker from the Merkel-allied Christian Social Union.
Cem Oezdemir, a lawmaker of Turkish descent for the opposition Greens, voiced hope that Germany's shift will aid reconciliation between Turks and Armenians. It's "important for Turkey to deal with this," he said in a floor speech.
Lawmakers in the lower house, or Bundestag, sent the resolution to a committee for final review, a procedural requirement before passage by the full chamber.
The fate of the Armenians "is an example of the history of mass exterminations, ethnic cleansing, deportations and, yes, the genocides that left such a terrible mark on the 20th century," the resolution says.
German military advisers helped plan and partially carry out the deportations, while leaders in Berlin ignored reports by German observers and diplomats on the ground, Gauck said in his speech at Berlin's main cathedral. That means Germany had "a shared responsibility, possibly even a shared blame, for the genocide of the Armenians."
Before it's here, it's on the Bloomberg Terminal.
LEARN MORE