Five Things Everyone Will Be Talking About Today
by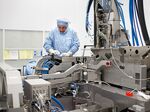 Europe gets a reality check, Asian data disappoints, and a not-so-happy anniversary. Here are five things that people will be talking about today.
Eurozone data slips
The QE-powered euphoria in Europe got a little dose of reality this morning. Data out of Europe's two largest economies, Germany and France, came in below expectations and a Purchasing Managers Index for euro-area services and manufacturing fell to 53.5 in April from 54 in March.
Asian slowdown
A Purchasing Managers Index for Japanese manufacturing also came in below expectations, falling below 50 and into contraction territory for the first time in a year. The HSBC gauge of Chinese manufacturing fell to a 12-month low. U.S. manufacturing data is scheduled for release at 9:45 ET.
Deutsche Bank poised to settle
Germany's biggest bank is said to be close to settling both U.S. and U.K. investigations into rigging of benchmark interest rates. According to a person briefed on the matter the settlement would come with a price tag of about €2 billion.
Petrobas scandal finally has a price
$2.1 billion. That's how much a graft scandal cost Brazil's national oil company. Like every other oil company, Petrobas now needs to find a way of dealing with some of the lowest crude prices since 2009.
Unhappy anniversary
Five years ago to the day, Greece officially submitted a bailout request…
Before it's here, it's on the Bloomberg Terminal.
LEARN MORE