Many of China's Most-Wanted Graft Suspects Have Taken Refuge in the U.S.
Ting Shi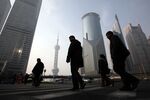 From "Lord Ringtone" to a banker accused of authorizing $1.6 billion in illegal loans, China's list of most-wanted fugitives offers an illustrated guide to the Communist Party's breathtaking variety of official graft.
The online rogue's gallery of 100 top overseas corruption suspects was released by Chinese authorities to pressure the U.S. and other governments to help track down and return them. The list includes Li Xiangdong, who's accused of taking bribes while running China Mobile Ltd.'s regional digital music and ringtone business in Sichuan and absconding to Canada.
There's also Liu Changming, a former governor of the Bank of Communications' Guangzhou branch, accused of approving illegal loans of more than 9.8 billion yuan ($1.6 billion) between 2005 and 2007, according to the Legal Evening News. Liu vanished in 2008 before traveling to either Singapore or the U.S., according to the government's list.
The list spans China's industries, from finance and property to oil and car manufacturing. There are former representatives of the state-controlled news media and one ex-history professor. The campaign to repatriate financial fugitives -- dubbed "Sky Net" -- is key to President Xi Jinping's nationwide corruption crackdown, with some 40 people on the list released Wednesday thought to be in the U.S.
Zhu Lijia, a public affairs professor at the Chinese Academy of Governance in Beijing, said the list, which includes the names, photos and personal details of the suspects, may boost international cooperation. "It could also create sufficient psychological pressure on these suspects and an environment conducive to their surrender," Zhu said.
'Psychological Pressure'
Nine suspects on the list hail from the banking industry, with a former president of Bank of China Ltd's Hainan provincial branch being the highest ranking. That official, Wang Liming, left for the U.S. in 1998, according to the list.
Almost one-quarter of people on the list are believed to have multiple identities, with two possessing at least five passports. Among those with two passports was Qiao Jianjun, a former director of China Grain Reserves Corp., who's suspected of illegally transferring 300 million yuan to the U.S., the official China Daily reported last month.
In March, the U.S. Justice Department indicted Qiao and his ex-wife, accusing them of channeling stolen funds into the country and fraudulently obtaining U.S. visas.
Canada, with 26 former officials, was the second-most popular destination for fugitives on the list, which was released by the Ministry of Public Security and the Central Commission for Discipline Inspection, the Communist Party's graft-busting agency. New Zealand was third, with as many as 20.
Police Chief
Twenty-three people on the list were women. The youngest person was a 31-year-old woman who had worked at a Beijing-based pension fund.
The oldest was a former police chief of Fuzhou, the capital of the southeastern Fujian province. Xu Congrong, now 81, fled to the U.S. in 2003 after collaborating with local organized crime figures on money laundering and drug-trafficking, according to the party-run People's Daily.
Among the better-known cases cited was that of Yang Xiuzhu, a former Zhejiang province property official, who fled to the U.S. in 2003 with estimated assets of 253 million yuan, the official Xinhua News Agency reported. Her family bought a five-story Manhattan building as early as 1996 for $5 million, the report said.
Before it's here, it's on the Bloomberg Terminal.
LEARN MORE