Comcast Deal in Limbo as FCC Said to Join DOJ Against Merger
Alex Sherman, David McLaughlin, Gerry Smith and Todd Shields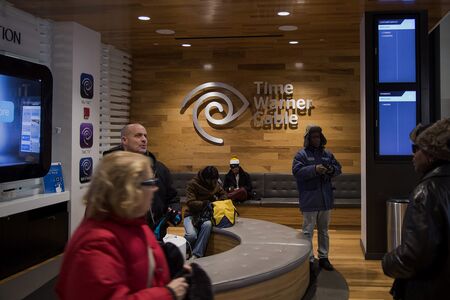 Federal Communications Commission staff joined lawyers at the Justice Department in opposing the planned merger of Comcast Corp. and Time Warner Cable Inc., dealing a major blow to the the $45.2 billion transaction.
FCC staff members think the merger would threaten competition and innovation and should be considered in an administrative hearing, according to two people with knowledge of the staff's position. FCC officials told the two biggest U.S. cable companies on Wednesday that they are leaning toward concluding the merger doesn't help consumers, according to one of these people.
An FCC hearing, which can take months to complete, can effectively kill a deal by dragging the approval process out beyond the companies' time frame for completion. Justice Department staff is also leaning against the deal, Bloomberg News reported last week.
While the DOJ has to present a case in court to block the deal, an FCC hearing referral could prove to be the bigger obstacle to Comcast's bid to expand its cable and Internet footprint.
Falling Elephant
"The Comcast deal isn't dead yet," Craig Moffett, an analyst at MoffettNathanson, wrote in a note Thursday. "But it's a bit like an elephant that has been dropped out of an airplane. At around 10,000 feet, it is technically still alive. But it is falling fast, there's not much you can do to stop it, and its odds of survival are pretty low when it hits the ground."
Comcast shares rose 1.6 percent to $59.70 at 1:50 p.m. in New York, while Time Warner Cable fell less than 1 percent to $149.00. Time Warner Cable shares traded almost 16 percent below the value of Comcast's all-stock bid, the widest gap since the merger was announced, indicating traders see greater risk the acquisition may not close.
The last time the FCC staff proposed sending a merger to a hearing was over AT&T Inc.'s bid to buy T-Mobile USA Inc. in 2011, prompting the companies to drop the deal. The Justice Department had already brought a lawsuit seeking to block the merger.
Comcast representatives came away from the FCC meeting with the impression the deal was in trouble, according to a person familiar with the matter.
New Opportunities
"We had one in a series of meetings with the Department of Justice today, as well as another meeting with the FCC," Sena Fitzmaurice, a spokeswoman for Comcast, said in a statement Wednesday. Comcast, which has said the deal will lead to improved services for customers, said it had no comment on the meetings.
Spokesmen for the Justice Department and the FCC declined to comment on Wednesday's meetings, as did Time Warner Cable.
An unconsummated deal could create opportunities for other cable companies to pursue tie-ups, while also easing some customers' concerns that Comcast could get so big that it would interfere with online video services.
A collapse wouldn't likely be devastating for Comcast, the nation's biggest cable company. It would still deliver broadband service to 22 million people, putting it in good position as television programming increasingly moves online. Comcast has also been increasing the speed of its broadband service in many markets to retain customers.
Several analysts expect Comcast to look for deals overseas, where the pay-TV market still has room to grow. Last month, Comcast announced it was creating a company to focus on investments in growth businesses around the world.
Painful Choices
Saving the deal, if at all possible, would require painful choices by Comcast. The company would have to decide which assets it could sell to satisfy regulators while preserving the deal's value, industry analysts and lawyers said.
Comcast could offer to sell subscribers in major markets such as New York and Los Angeles, they said. Another option is selling its one-third stake in Internet video service Hulu, which has growth potential as consumers increasingly watch television online.
Concerns that the biggest U.S. cable company could stifle competition in online video may not be resolved by selling subscriber accounts, divesting businesses or vowing to offer faster Internet, some analysts said.
"It's becoming clear that the FCC and perhaps DOJ want to reject this deal," said Moffett. "The issue now is whether they legally can. If they decide they have a strong enough case, I'm not sure there are any remedies out there that will fix it."
No Negotiations
Going into Wednesday's meetings, antitrust and FCC officials hadn't started negotiating with Comcast about conditions to the merger that would resolve concerns, people familiar with the matter have said.
Members of the FCC's internal merger review team, formed by Chairman Tom Wheeler, told agency staff in a Wednesday briefing that the team was intending to send the deal to a hearing, said a person familiar with that session. The speakers, including FCC General Counsel Jonathan Sallet, said they still needed to draft the order for a hearing, and they didn't offer a time frame, said the person who requested anonymity because the briefing wasn't public.
The FCC can recommend a hearing if its five presidentially appointed commissioners can't decide a deal advances the public interest. An FCC administrative law judge weighs the deal, and produces an initial decision that goes to the commissioners for a vote. Companies can appeal the final FCC decision to federal court.
Legal Challenge
The Justice Department, for its part, challenged 15 deals in the year ending Sept. 30, 2013, most of which settled or were abandoned, according to Bloomberg Intelligence. While seven resulted in complaints filed in federal court, only two were fully litigated. The department prevailed in both.
The Justice Department prefers remedies in which businesses and assets are sold to preserve competition, said Jennifer Rie, a litigation analyst for Bloomberg Intelligence in New York. Conditions which impose behavioral requirements on companies are difficult to police and are disfavored, Rie said.
Keeping Promises
Complaints that Comcast didn't live up to promises made when it acquired NBCUniversal in 2011 may make regulators reluctant to agree to additional behavioral fixes, according to Rie.
"DOJ may be thinking, why is it going to work this time if it didn't work the first time," she said. "People are saying Comcast can't be trusted."
A combination with No. 2 Time Warner Cable would leave Comcast with about 29 million residential video customers, about 29 percent of the home pay-TV market, following divestitures unveiled after the merger was announced last year. Comcast would also have most of U.S. Internet subscribers with fixed broadband capable of the 25 megabits-per-second speed standard that the FCC adopted in January.
Regulators' concerns about online video won't go away if Comcast gives up more subscribers, according to some of the analysts. If regulators decide Comcast could use its expanded broadband footprint to impede competitors, it wouldn't matter whether Comcast has 30 million subscribers or 24 million, they said.
"The challenge is when you put these two companies together what the government is looking at is that broadband share," Rich Greenfield, an analyst at BTIG in New York, said in an interview with Bloomberg TV. "The reality is there is no competition. For the vast majority of consumers, there is no choice for broadband."
Charter Deal
A blocked Comcast deal would echo throughout the cable business. Charter Communications Inc., the No. 4 in the industry, has already agreed to take control of 3.9 million Comcast cable-TV customers to ease approval for the Comcast-Time Warner Cable merger. That deal, however, is contingent on the Comcast-Time Warner Cable deal going through.
Billionaire John Malone, the cable-industry pioneer and largest investor in Charter, has said he would try again to buy Time Warner Cable if the deal with Comcast failed. Meanwhile, Charter's recent purchase of Bright House Networks, the sixth-largest U.S. cable company, would be in jeopardy if Comcast's merger with Time Warner Cable is blocked.
Before it's here, it's on the Bloomberg Terminal.
LEARN MORE