EU Pledges Navy Ships to Save Refugees, Target Trafficker Boats
John Follain, Ewa Krukowska and Patrick Donahue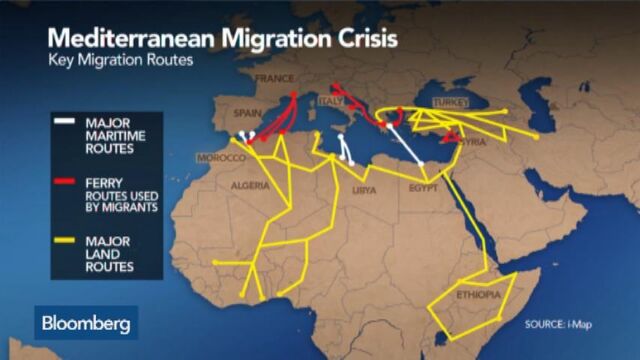 European Union leaders pledged navy ships and more money to save refugees and target human traffickers' boats at an emergency summit on the migrant crisis that's made the Mediterranean Sea into one of the world's deadliest borders.
"Saving human lives was at the center of discussion," German Chancellor Angela Merkel said, adding that her country will send a frigate and navy supply ship to the Mediterranean. Britain is sending the HMS Bulwark along with two patrol boats; France is sending a patrol ship and surveillance plane and Ireland and other members are making contributions.
EU leaders in Brussels Thursday tripled funding to 120 million euros ($130 million) annually for the bloc's Mediterranean border patrol and assistance measures, European Commission President Jean-Claude Juncker said. The move came after between 700 and 900 migrants died when their boat sank off Libya last weekend. Conflict-torn Libya is favored by refugees as an embarkation point for Europe.
"This was a first step that will have to be followed by a lot more in order to resolve the huge problem that we confront," Merkel said. She said the EU must change the way asylum seekers are divided up among the 28 EU states because under the current system members like Germany and Sweden are taking in more than many others.
EU leaders pledged to "disrupt trafficking networks, bring the perpetrators to justice and seize their assets," according to a summit statement. The EU will "undertake systematic efforts to identify, capture and destroy vessels before they are used by traffickers," the leaders said.
Libyan Approval
Merkel said approval by either the United Nations Security Council or the Libyan government would be needed before there was any such use of force in the country's territory. Italian Prime Minister Matteo Renzi said he'd asked U.K. Prime Minister David Cameron and French President Francois Hollande to back a UN resolution.
In Libya, the administration in Tripoli said on Thursday it would never accept any EU "bombing or incursions" aimed at striking traffickers on its coast.
Two rival administrations claim legitimacy in Libya: an Islamist-backed government operating from Tripoli, and an internationally recognized one in the eastern city of Tobruk.
More than 35,000 asylum seekers and migrants have already arrived by boat in Europe this year, according to the Office of the United Nations High Commissioner for Refugees. If the toll of the latest boat sinking is confirmed, about 1,600 people will have died so far in 2015, the office said. That compares with 3,500 deaths in all of 2014, it said.
Epic 'Tragedy'
"A tragedy of epic proportions is unfolding in the Mediterranean," according to a statement issued by the UN High Commissioner for Refugees.
EU leaders will increase support to Tunisia, Egypt, Sudan, Mali and Niger and other countries to better monitor and control land borders and routes. An EU-Africa summit will be held in Malta in the coming months, leaders said.
"Nobody has any illusions that we can solve the problem today," EU President Donald Tusk said. "We cannot because the real causes are war, instability and poverty in the whole region."
The International Organization for Migration estimates that 65 percent of migrants across the globe who died in 2014 perished in the Mediterranean.
Italy carried out a broader Mare Nostrum (Our Sea) mission for just over a year until December 2014. It has been replaced by the more limited Triton mission in which ships are confined to within 30 miles (48 kilometers) off Italy's southern coast.
Merkel said EU legal experts will study a possible expansion of the Triton program and report back to European leaders in June.