Ted Cruz Skips Loretta Lynch Senate Confirmation Vote
Heidi Przybyla and Kathleen Hunter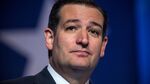 Senator Ted Cruz of Texas, a 2016 Republican presidential candidate, skipped Thursday's vote on confirming Loretta Lynch as U.S. attorney general after he was among her most outspoken critics.
"Bringing in a new attorney general should be turning a positive page in this country," Cruz said on the Senate floor before the vote. "But unfortunately the answers that Ms. Lynch gave in her confirmation hearing render her unsuitable."
The Dallas Morning News reported that Cruz left Washington to attend an evening fundraiser in Dallas. Cruz also missed Wednesday's vote on an anti-human-trafficking measure that cleared the way for the Lynch confirmation vote.
A spokeswoman for the senator, Amanda Carpenter, said on Twitter that Cruz's vote earlier Thursday not to advance Lynch's nomination was "the only vote that mattered."
Cruz is among three U.S. senators who have announced they are seeking the Republican presidential nomination. The others, Rand Paul of Kentucky and Marco Rubio of Florida, both voted against Lynch.
A potential Republican presidential contender, Senator Lindsey Graham of South Carolina, voted for her confirmation. In a statement, he said she was well qualified for the position and that presidents "should have latitude" in choosing members of their Cabinet.
Lynch was confirmed by the Senate as the first black woman to become U.S. attorney general after a five-month wait marked by partisan fights and Republican arguments that she won't be independent enough from President Barack Obama. Some Democrats suggested a racial motive behind the delay, including Senator Richard Durbin of Illinois and Representative Emanuel Cleaver of Missouri.
The vote was 56-43, with 10 Republicans joining all Democrats in support. Lynch is replacing Attorney General Eric Holder, who has served in the job since Obama took office in 2009.