Citadel's Weisberg Said to Join Alibaba's Family Office
Lulu Yilun Chen and Bei Hu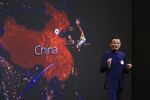 Oliver Weisberg, a Hong Kong-based managing director of Citadel, has quit his employer of almost nine years to help run a family office for Alibaba Group Holding Ltd. executives, said two people with knowledge of the matter.
Weisberg will leave Citadel at the end of June, Katie Spring, a Chicago-based spokeswoman for the hedge fund firm led by Ken Griffin, said by e-mail. Weisberg did not reply to two e-mail messages seeking comment.
Weisberg will join the new family office being set up in Hong Kong by Joseph Tsai, Alibaba's vice chairman, according to one of the people, who asked not to be identified because the information is private. The family office will also manage the wealth of some other founders of the Chinese e-commerce giant, which has a market capitalization of more than $200 billion.
Tsai has an estimated fortune of $5.4 billion, according to the Bloomberg Billionaires Index. He plans to create an investment program based on the "endowment model that focuses on generating long-term steady returns for a few select families," Jim Wilkinson, a spokesman for Tsai, said without giving further details.
Alibaba's record $25 billion U.S. initial public offering in September created billionaires including Tsai and Executive Chairman Jack Ma. Ma's $35.4 billion fortune ranks him as Asia's richest person, according to the Bloomberg index. Ma is not an initial participant in the family office and may invest in the future, said the person.
Weisberg's Co-Manager
Weisberg will co-manage the firm with Alexander West, who has been running Blue Pool Capital, the existing Hong Kong-based family office of Tsai. News of the family office was reported earlier by the Wall Street Journal. West didn't immediately reply to e-mail queries and phone messages.
Weisberg joined Citadel in 2006. Previously, he had led the strategic investment and distressed products group at Deutsche Bank AG in Hong Kong, according to biographical information posted on the website of Teach for China, an educational charity he's involved in. He had also been part of a Goldman Sachs Group Inc. unit that invested in Alibaba.com, the once Hong Kong-listed unit of the group.
Before it's here, it's on the Bloomberg Terminal.
LEARN MORE