Bond-Market Engine Falters as Li Tackles $28 Trillion Debt
Bloomberg News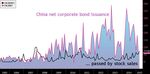 China's bond-market engine is faltering as Premier Li Keqiang allows corporate defaults and discourages local government off-balance sheet financing. The question for the world's second-biggest economy is whether alternative funding sources can take up the slack.
The following charts show net non-financial corporate bond issuance, or sales minus maturities, fell to 63.6 billion yuan ($10.3 billion) in March, down 84 percent from the record high of 387 billion yuan in March 2013, according to central bank data. Equity financing passed debt funding as this year's 36 percent Shanghai composite index return outstripped the 2.8 percent gain for yuan sovereign debt. Bank loans accelerated as a crackdown on shadow financing hurt the trust business.
Premier Li needs to bring debt to more manageable levels, overhaul local finances and remove implicit guarantees for bonds that prop up struggling issuers, all while reviving the slowest economic growth in more than two decades. China's total government, corporate and household debt load reached $28 trillion in mid-2014, 282 percent of economic output, according to McKinsey & Co.
"The government's curb on local government borrowings has caused a big slump in corporate bond issuance," said Sun Binbin, a bond analyst at China Merchants Securities Co. in Shanghai. "The government won't let bond issuance wither. It's an important direct financing channel."
Local-government financing vehicles' offerings are picking up with 102 billion yuan of bonds sold this month, up from 69.6 billion yuan in March and 29.1 billion yuan in February. That's still well off last year's gross issuance record of 1.76 trillion yuan.
China banned local government financing vehicles from private bonds sales, the Securities Association of China said in a statement yesterday. The SAC is supervised by the China Securities Regulatory Commission, which regulates exchange-traded bonds.
The headwinds are significant. Baoding Tianwei Group Co., a power-equipment maker, became China's first state-owned enterprise to default on domestic bonds this week. A letter from political advisers of Haikou published on Feb. 4 said debt owed by the capital city of the tropical Hainan Island had "already exceeded the alarming line."
CHART 1. Net company bond issuance slumped from 68 billion yuan in February and 182 billion yuan in January. Equity financing has passed bond funding for only the third time in three years, rising to 74 billion yuan from 20.8 billion yuan two years earlier.
CHART 2. China's yuan-denominated new loans climbed to about 3.7 trillion yuan in the first quarter, up from 3 trillion yuan a year earlier. Entrusted lending and trust loans both shrank in that period.
CHART 3. Shanghai stocks have rallied as bond returns stall.
— With assistance by Judy Chen
Before it's here, it's on the Bloomberg Terminal.
LEARN MORE