Caterpillar Raises Profit Forecast as North America Gains
Shruti Date Singh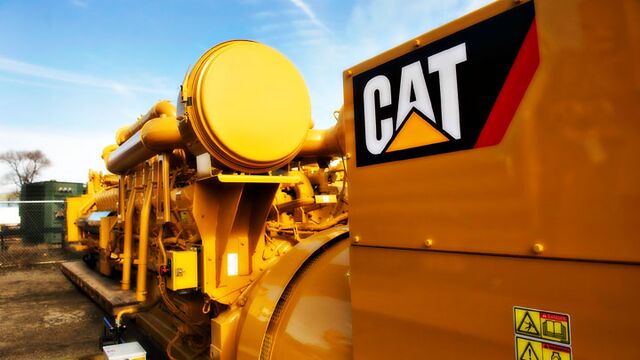 Caterpillar Inc., the largest construction equipment maker, raised its full-year earnings forecast after North American sales improved and its energy and transportation business sold a greater volume of machinery.
First-quarter profit and sales, which exceeded analysts' estimates, were "solid" and prompted the company to raise its guidance, Chief Executive Officer Doug Oberhelman said Thursday in a statement. Earnings excluding restructuring costs will be $5 a share in 2015, up from a previous view of $4.75.
The energy and transportation segment, which makes rail locomotives and equipment for the oil and gas industries, was an unexpected help in the quarter. A drop in demand from the energy sector following a slump in crude prices -- something Caterpillar says will happen -- "hasn't played out instantaneously," said Matt Arnold, a St. Louis-based analyst for Edward Jones & Co.
Caterpillar cautioned that sales and profit in the remaining three quarters of 2015 will be lower than in the first quarter. The Peoria, Illinois-based company continues to suffer from the severe slump in mining and in construction outside of North America. It has closed factories to adjust to lower demand.
"We continue to face headwinds and uncertainty in 2015," Oberhelman said.
The shares slipped less than 0.1 percent to $84.79 at the close in New York.
Construction Spending
"The guidance increase was less than the first quarter outperformance," Ann Duignan, a New York-based analyst for JPMorgan Chase & Co., said in a report. "It's hard to get excited."
In, North America, construction may be more robust. Although below prior peaks, activity in that area is improving, the company said.
On Wednesday, Caterpillar said retail sales of its construction machinery reported by dealers rose 2 percent in North America in the first quarter and gained 4 percent in Europe, Middle East and Africa. Globally, construction sales were still down 13 percent.
Builders in the U.S. appear to be more confident. Total U.S. construction spending in February was 2.1 percent higher than a year ago.
Caterpillar's first-quarter net income rose to $1.81 a share from $1.44 a year earlier. Excluding some items, earnings were $1.86 a share. The average estimate was for $1.35.
Revenue dropped to $12.7 billion from $13.2 billion and was more than the average estimate of $12.6 billion.
Before it's here, it's on the Bloomberg Terminal.
LEARN MORE