Cameron Successor Might Threaten Coalition Stability, Clegg Says
Thomas Penny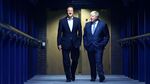 U.K. Deputy Prime Minister Nick Clegg warned a renewed deal between his Liberal Democrats and David Cameron's Conservatives after the May 7 election might collapse if the next Tory leader fails to embrace the needs of coalition government.
Clegg has appealed for a second term in government for his party and bookmaker William Hill Plc makes a new Tory-Liberal Democrat coalition the most likely post-vote tie-up after the vote, even though Clegg's party is set to lose seats. Cameron has said he plans to quit as premier before the next election, scheduled for 2020, so the Tories would need to choose a new leader in midterm if they keep power.
In the event of another Tory-led coalition, Cameron's successor would have to agree to continue sharing power under terms negotiated by Cameron after the election, Clegg said, limiting his or her ability to stamp their own mark on the premiership.
"Any successor to David Cameron, if the Conservatives win a coalition again, would have to understand they're still in a coalition and they have to continue the work of the coalition or they're not in government," Clegg said in an interview on his campaign bus Thursday after a visit to mid-Wales. "David Cameron has adapted himself to the realities of government, but there's not that many senior Conservatives who understand that the days of them ruling the roost on their own are dead and gone."
Possible Scenarios
Clegg's warning adds to the uncertainty surrounding the outcome of the election itself and the fallout for Britain, with neither the Tories nor the Labour opposition set to win a majority in the House of Commons. Among the possible scenarios are a referendum on British withdrawal from the European Union, which has been promised by Cameron, and a slowing of deficit-reduction plans, pledged by Labour and the Scottish National Party.
London Mayor Boris Johnson is the bookmakers' favorite to succeed Cameron, followed by Home Secretary Theresa May and Chancellor of the Exchequer George Osborne. To win the job they will have to gain the support of both Tory activists and largely euroskeptic lawmakers within the party who have opposed coalition government.
"If it's being in power that's at stake, whoever succeeds the Tory leadership would be prepared to accept some compromise," said Andrew Russell, professor of politics at Manchester University. "And being able to blame the partner is still a convenient narrative and that would continue to run for whoever took over."
Coalition Relations
While the coalition has never been in danger of collapse since its formation in 2010, relations between the two parties have become more fraught down the years. The Tories have blamed the Liberal Democrats for failing to let them push through 2010 campaign promises, while Clegg's party has argued that it's held back Tory attempts to make even deeper spending cuts.
During the campaign, the Liberal Democrats have made their central theme the idea that they would cut spending less than the Conservatives and borrow less than Labour, thereby acting as a restraining influence on either main party in a coalition.
Clegg said his party will be well placed to work in coalition after the experience of the past five years, when he said its discipline proved shared government can work.
'Utterly Disciplined'
"If you do anything new in that fetid ingrowing toenail of a place called Westminster, it always elicits howls of anger and anguish and condemnation, and it was always going to be hardest and toughest to show the political establishment that coalition could work," Clegg said. "We've now broken the back of the skepticism and resistance to coalition government, which is why I was so insistent that we were utterly disciplined."
Clegg said he's drawn up a list of requirements for the civil service that he'll attach to any future coalition agreement. The bureaucracy in Whitehall, where ministries are based, was not well enough set-up to allow for more than one party forming a government in 2010, he said.
"I have a little annexe on a short piece of paper setting out the further changes you need in Whitehall in order to make sure it serves both parties more effectively in a coalition than it has done in the past, which I would append to any coalition agreement," he said. "I've learned that it's not just the policy commitments that matter, it's also the plumbing and mechanics of Whitehall that have to be bent to the will of a coalition."
'Huge Dissonance'
Clegg said he's confident his party can win enough seats in the House of Commons to determine who forms the next government, even though it's languishing at 10 percent support or less in national opinion polls and is predicted by computer models to lose half its 57 lawmakers. Reports from local party activists indicate it will do much better than many commentators expect in areas where it is campaigning to win seats, he said.
"Five years of remorseless misrepresentation and vilification by right and left has had an impact," Clegg said after addressing a rally of supporters in Brecon & Radnorshire, a district the Liberal Democrats are defending. "But there's a huge dissonance between the polls, which are national snapshots of opinion, and how people feel and think in those areas where Liberal Democrats are in conversation with voters day in, day out."
Battle Bus
Clegg is on a relentless schedule of visits across the country, often traveling on his party's yellow bus, and making himself available to journalists and voters as the two main parties opt for tight control over access to their leaders. He compared their tactics to the North Koreans and said they "suck the life" out of the campaign.
The Liberal Democrat leader said he's enjoying himself.
"Having had five years where every single one of my utterances is shot down by the right or the left, to be able to talk on my own terms is incredibly refreshing," Clegg said. "We've got a very good story to tell, I think it's remarkable what we've done and I really relish the opportunity of telling that story."
Before it's here, it's on the Bloomberg Terminal.
LEARN MORE