Bieber's Big Break and the Harlem Shake: The Videos That Made YouTube
by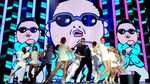 On April 23, 2005, YouTube debuted its first video, an inauspicious clip of a guy at the San Diego Zoo gawking at a bunch of elephants. In the decade since, seemingly every other animal on the planet from cats to dogs to chipmunks to otters to pandas has taken a turn as a top YouTube star. But in the end, all due respect to the honey badgers, it's the Homo sapiens of earth who have proven to be YouTube's wildest performers. Today, as YouTube turns a decade old, here are 10 of contemporary civilization's best videos without which YouTube just wouldn't feel like YouTube. 
1. Nike sets a high bar 
October 2005: Long before brands were being castigated for cluttering up social media with ham-fisted attempts at conversation, Nike's "Touch of Gold" clip starring Ronaldinho goes viral, becoming the first video to top 1 million views.
2. Amateur Bieber fever
October 2007: Justin Bieber's mom uploads a video of her son, sporting a wicked bowl cut and strumming on a guitar. The video will ultimately help cement YouTube's reputation as the greatest talent-discovery machine ever built. 
3. Mega 'Rickrolling'
 April Fools 2008: YouTube redirects the links on its main page to the music video for Never Gonna Give You Up, creating history's most ambitious "Rickroll."
4. Auto-Tune the News 
 April 2009: The Gregory Brothers, a hipster band from Brooklyn, apply Auto-Tune technology to Katie Couric, talking about global warming, and Hillary Clinton, talking about pirates. Add in an "angry gorilla" suit and somehow it all added up to YouTube magic. 
5. Double rainbow
January 2010: The world goes bananas over a video of a dude going bananas over a double rainbow. 
6. 2 Guys, 600 Pillows
 September 2010: A new wave of decentralized, homegrown YouTube entertainers realize they can make good money by creating sponsored videos on their channels directly for brands. Rhett & Link's mesmerizing pillow ad becomes the early gold standard. 
 7. Gangnam Style
 December 2012:  Psy's Gangnam Style becomes the first video to surpass a billion views. 
8. Holy haul 
 January 2013: Bethany Mota emerges as the queen of teen commerce, with performances like this simple "Roomspiration" video,  which goes on to rack up 10 million views. 
 9. Harlem Shake
February 2013: The meme-ification of earth's culture hits a new high as groups of people everywhere go ape on camera to Baauer's song. 
10. PewDiePie Planet
 January 2015: Felix Kjellberg, a foul-mouthed Swede known as PewDiePie, who provides madcap commentary while playing obscure video games, kicks off the year as the most popular YouTube star on the planet. His channel now has more than 36 million subscribers. 
Before it's here, it's on the Bloomberg Terminal.
LEARN MORE