Behind Nasdaq's Rebound: Tech Products People Want to Use
Adam Satariano and Ian King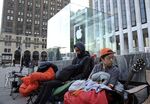 Fifteen years after it was burned by an investment in an online grocery delivery service, the Silicon Valley firm Sequoia Capital is putting money into another one. What's changed? Pretty much everything.
In March 2000, the startup landscape was littered with ventures that had shaky business models, generated little to no revenue and coveted users' "eyeballs" more than their money. Apple Inc., with a market capitalization of about $755 billion and the most valuable company in the world, was 18 months away from introducing the iPod, and seven years from the iPhone. Most people connected to the Web over a 56k modem -- which was 2,600 times slower at downloading data than an iPhone 6.
The differences between then and now go a long way to explaining how the Nasdaq Composite Index has set a new record. The index cleared 5,048 for the first time since March 2000, recovering from a crash that erased $7 trillion from equity prices and forced hundreds of startups to close up shop.
"Technology today touches just about everybody on the planet," said Jim Goetz, a Sequoia partner and an early backer of companies including Facebook Inc. That's why Sequoia was able to brush off its nearly $50 million loss on Webvan Group Inc., one of the spectacular flameouts of the '90s technology boom, to put money this year into Instacart Inc., a growing app-based grocery delivery service in 15 U.S. cities.
"It's dramatically different," Goetz said of the Webvan disaster and Instacart's potential. "You can imagine all kinds of services that weren't possible 15 years ago."
Digital-Device Move
Now companies once quaintly referred to as dot-coms are integral to everyday life. Amazon.com Inc., in 2000 still mainly a book-ordering service, is the leading e-commerce company and biggest seller of cloud-computing services used by other businesses. Some didn't exist or weren't public back then. Facebook co-founder and Chief Executive Officer Mark Zuckerberg was a Harvard freshman when the Nasdaq slide bottomed out in 2002. Google Inc. didn't go public until 2004.
Many in the Nasdaq, such as mobile-phone chip designer Qualcomm Inc., make components that underpin modern-day technology. Comcast Corp. and the other pay-TV companies are also tech companies, because they're Internet service providers.
"We've basically taken all the social aspects that humans used to do face-to-face or physically and have moved them over to a digital device," said Steve Blake, a Silicon Valley historian and lecturer at Stanford University and the University of California, Berkeley.
Connected Customers
In 2000, the market collapsed as investors realized that companies they'd been told would use the Internet to revolutionize society were little more than interesting ideas with no prospects of generating revenue, let alone profit.
Today the issue, according to Blake, is that startups like Uber Technologies Inc. are attracting valuations of tens of billions of dollars that might prove unrealistic if they were publicly traded. "It's not whether they're building something of value, it's whether they are that valuable," Blake said.
But most tech companies have more solid fundamentals than many did 15 years ago. Nasdaq members have an average stock value about 30 times earnings, compared with 180 times earnings in March 2000.
And their customers are extremely well connected. About 70 percent of U.S. households have broadband access, compared with 3 percent in 2000, according to Pew Research Center. There are billions of smartphones in use around the world, with China's largest carrier, China Mobile Ltd., boasting more subscribers than the U.S. has people.
Transformational Developments
"Technology, especially mobility, has permeated every aspect of people's lives," said Tim Bajarin, an industry analyst for Creative Strategies.
Transformational developments in electronics technology made that possible. In the '90s, some good ideas were constrained by the limits of components.
Intel Corp. didn't start selling the Pentium M chip, which enabled the first truly portable laptops with Wi-Fi Internet access, until 2003. The first 3G networks reached the market in 2001, starting the process of turning phones into Internet-connected devices. Now an LG G Flex2 phone runs on a Qualcomm chip that has eight processors built into the same tiny piece of silicon. Each one of those pieces is more powerful that what was in the laptops used by would-be dot-com millionaires in 1999 to write their business plans.
High-Profile Flameout
"The technologies have advanced far enough that what was not a feasible business model in the dot-com era is now possible," said Dale Ford, an analyst at the research firm IHS. "There is a closer connection between technology and reality."
All the advances help explain Sequoia Capital's interest in Instacart. Goetz, the Sequoia partner, said that even though backing Instacart had some partners "harkening back" to 2000, it was an easy decision. Webvan may have just been ahead of its time. Three-year-old Instacart can take advantage of cloud services that make it easy to organize orders and GPS-enabled mobile devices packed with logistics software that guide deliveries. And there's nothing mysterious these days about tapping an app to order a carton of eggs.
"What occurred with Webvan and what's underway today," Goetz said, "is massively different."