Who's Really Killing the Migrants of the Mediterranean?
Smugglers send desperate human cargo to sea with just enough fuel to reach the shipping lanes, cynically exploiting the sailors' code of honor for rescues
by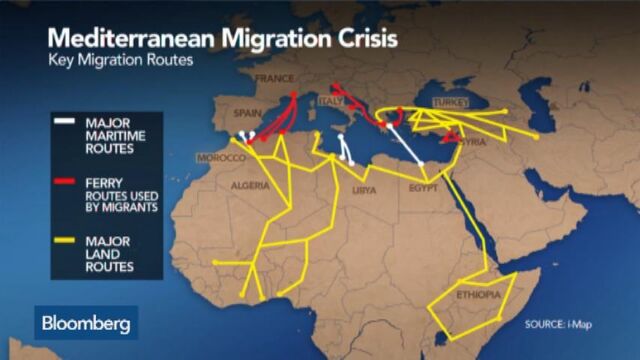 It isn't Europe. But Europe is playing into the murderers' hands. 
Shamed into action by a boat disaster that's now appearing on cable news as the worst shipwreck in Mediterranean history, politicians from the 28 European Union nations will meet again in Brussels on Thursday to iron out the specifics of several responses that were proposed at an emergency meeting on Monday in Luxembourg. 
Among the EU's pledges: expand search-and-rescue capabilities between Italy and Libya; better share the burden of caring for refugees among EU member states; and conduct "civil-military" operations to disrupt the human-smuggling networks and destroy the boats they dangerously pack with migrants and refugees and send to sea. 
All this is easier said than done. With anti-immigration sentiment high on the Continent, renewed cooperation among member states on asylum-seekers seems ripe for cynical sniping. The destruction of smuggling networks, in particular, raises questions for close observers of the crisis.
How will the EU know where to find the bad guys? And how would it go about eliminating the boats without further loss of life?
Robert Young Pelton intends to tackle these questions, and others, with Migrant Report, a Web-based news service. Pelton plans to launch the service next week, drawing on sources in Libya, Egypt, and Tunisia, where most of the boats carrying migrants originate.
"So much attention has been paid to what the EU has or hasn't done," Pelton says. "But while the EU has not done enough to rescue the people on these boats, they are not the ones sending migrants to their graves. That's the ruthless gangs that run these operations, and we don't know nearly enough about them."
Pelton noted that the boat that capsized Saturday sailed from Egypt, making one or more stops in Libya. "That's significant in two ways," he says. "It tells us that these smuggling rings are interlinked—it's a coordinated effort across borders. And it suggests that demand in Libya may be outpacing capacity. Libya may not have enough boats for all the people looking to escape."
The proper way to see the crisis, Pelton says, is that criminal syndicates are exploiting maritime law and custom, especially via commercial vessels, just as Somali pirates did in the Gulf of Aden. 
Under the law—also a code of honor among sailors—a boat is obliged to come to the aid of another in distress. "And what we're seeing is these boats carrying migrants are not only overloaded, they're sent with only enough fuel to reach shipping lanes, where the smugglers count on rescues. They aren't actually outfitting these boats to make it all the way to Europe," Pelton says. "We're even hearing about towing operations, where dinghies loaded with a hundred people and no motor are left to drift in a shipping channel." 
Pelton, 59, is an American adventurer and author recently featured on Bloomberg Business. He is currently collaborating with Malta-based MOAS (Migrant Offshore Aid Station), a nonprofit that, with its boat, the Phoenix, helped save 3,000 migrants off Libya from Aug. 30 to Oct. 28 last year. In partnership with Medecins Sans Frontieres (Doctors Without Borders), the Phoenix will begin patrols again on May 2.
"I'm familiar with the 'pull theory,' " says Martin Xuereb, director of MOAS, referring to the argument that rescue operations encourage migrants and refugees to attempt the crossing. "But that's not what's happening. As search-and-rescue programs were cut back, [migrants] were not deterred from coming, and that's resulted in mass casualties." Xuereb says efforts need to be focused on the "push" factors—the civil wars in Libya and Syria, for example—and the criminal gangs that recruit people to escape by boat. 
Migrant Report is a side project, Pelton says, but it may well be a source of intelligence for MOAS, and vice-versa. The plan is to build on enterprise reporting by journalists such as the Guardian's Patrick Kingsley, the Telegraph's Colin Freeman, and Mark Micallef, of the Times of Malta.
Earlier this year, Kingsley interviewed a refugee of the Syrian war living in Cairo named Abu Hamada who had become a top human smuggler. Over tea in an affluent Cairo suburb, Hamada presented himself as the only one his Syrian and Palestinian countryman could trust to get them to Europe—even though a boat his men had booked sank, killing 300, in September 2014.
Freeman closely followed the trial in Sicily of a Mediterranean human smuggler, Khaled Bensalam. On Oct. 3, 2013, the 35-year-old Tunisian was captain of a ship that capsized near Lampedusa, Italy, drowning 360. Last month, Bensalam was convicted of manslaughter in a rare criminal proceeding. The case, Freeman found, offered disturbing insights into how the gangs work. 
"Survivors later told how, before the crossing, the gang had treated them as virtual slaves in Libya, making them work for months to earn enough money for their passage. The men claimed to have been regularly beaten, while 20 of the women said they had been repeatedly raped," Freeman wrote. "Bensalam, who claims he was forcibly recruited by the gang, would have been nothing more than a foot soldier. As with drug gangs, senior figures do not go on the 'runs' because of the risk of getting caught. They often subcontract the job of sailing the ship to the migrants, in exchange for a discounted fare. One boatload of 200 that recently arrived off the Italian coast was piloted by a 15-year-old from Guinea, who had been given a week's basic training."
Bensalam's conviction hasn't changed much for the smugglers, Micallef says. He has made a close study of the smuggling networks and found that they are hierarchal. The people at the top making the real money operate largely off anyone's radar screen and continue with impunity.
There are two main networks in Libya, Micallef adds, with the bigger one operating near Zuwara, not far from the Tunisian border. This operation has survived three changes in political leadership in the last four years.
"The EU has said now it wants to disrupt this network. OK, but how?" Micallef says. Italian Prime Minister Matteo Renzi "had a number of fantastic sound bites yesterday about breaking the back of these 21st-century slave traders, but he's ruled out a naval blockade and now opposes a UN peacekeeping force. So how do they actually intend to intervene?" 
Before it's here, it's on the Bloomberg Terminal.
LEARN MORE