Twitter Insiders Halt Regular Sales of Company's Stock
Sarah Frier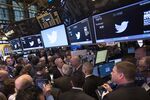 Twitter Inc. executives aren't currently selling stock under divestment programs following criticism of their sales.
Company insiders aren't selling shares at regular intervals, a person familiar with the matter said. Such plans have either expired or been canceled, said the person, who asked not to be identified because the matter isn't public.
Insiders have halted sales in the past in an effort to bolster confidence in the company. When the first lockup expired in May 2014 after Twitter's 2013 initial public offering, Chief Executive Officer Dick Costolo said he and others planned to hold on to their stakes to show support for the company. He didn't give a specific timeframe, and later that year, Costolo and other insiders began to sell millions of dollars worth of Twitter stock.
Costolo has sold $35.2 million in shares since July 2014, according to data compiled by Bloomberg. The shares of Twitter fell 28 percent in 2014.
Investors and analysts criticized the company's executives and inside shareholders for selling stock even as they sought to convince investors to have confidence in it. Some of the harshest criticism came from Jim Cramer, host of CNBC's "Mad Money" television program and Robert Peck, an analyst at Suntrust Robinson Humphrey Inc.
Natalie Miyake, a spokeswoman for Twitter, declined to comment. Fortune earlier reported the news of the halt in insider sales.
Further stock sales by Twitter's executives and insiders now appear to be on hold. Known as 10b5-1 plans, insiders are required to submit a share-sale plan in advance to the U.S. Securities and Exchange Commission to make sure they aren't timing share sales based on inside knowledge of a company's performance.
Twitter's stock has advanced 44 percent this year.
Before it's here, it's on the Bloomberg Terminal.
LEARN MORE