technology
Silicon Valley Private Bus Service Gets More VC Funding
Chariot raises $3 million to continue expanding its routes in San Francisco and beyond
By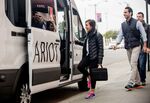 In the wake of Uber's rapid growth and swelling market cap, other companies have rushed to rethink aspects of urban transportation. One of them is Chariot, a startup that's offering a new way to survive the daily commute by running 14-passenger vans across San Francisco on five set routes during the morning and afternoon rush. Rides cost between $3 and $5 apiece, and passengers can book from their smartphones and use mobile apps to monitor the location of the vans in real time. And, of course, coming in May, the buses will include onboard Wi-Fi.
Over the past few months, the idea has caught on in the traffic-clogged tech hub, and Chariot now says it provides about 5,000 rides per week. Today, Chariot is announcing it has raised $3 million from a group of early-stage investors that include SoftTech VC, Maven Ventures, and Haystack. The startup anticipates using that money to continue expanding its reach. "We can start a new route within 48 hours," says Ali Vahabzadeh, Chariot's chief executive officer, who adds that the company will begin growing beyond San Francisco by the end of the year. "We fill in the gaps of a transportation system in any city." 

Not everyone is enthralled. Private shuttle services such as Chariot and a local rival, Leap Transit, as well as the private buses of tech giants like Google and Apple, have been criticized for adding to congested streets, undermining the use of publicly supported buses and trains, and catering exclusively to white-collar techies while shutting out the elderly and disabled. But that hasn't stopped investment dollars from flooding in. 
The company is also introducing a tool to determine new routes, called "Roll your Route." The service, which it had previously been testing, allows visitors to the Chariot website to submit their optimum bus route and commute times. They can then recruit other friends and neighbors to vote for that route. If the proposed route meets a certain demand threshold, the company will acquire more drivers and vans and start service within a week. And Chariot says it already makes constant alterations to stop times and service frequency, and adjusts the price of a ticket based on route length and popularity. 
As for the criticism of new, private modes of transportation, Vahabzadeh says that all Chariot drivers are full-time or part-time W-2 workers, not contractors (which services like Uber and Lyft use). His vans also stop only in white curb passenger-loading zones and not bus stops, where they might hold up a city bus. He also says he's working to make the service more accessible to a broader demographic. Customers can print tickets if they don't have a smartphone and the company plans to accept payment methods other than credit cards in the near future.
Vahabzadeh claims that the San Francisco Municipal Transportation Agency, or MUNI, has privately praised Chariot as a worthy alternative that reduces overcrowding on the most popular public bus routes. "In a way we are improving the quality of service on mass transit by making it more accessible for the person who last year was getting passed three or four times because the bus was so overcrowded," he says. It remains to be seen whether MUNI will be as enthusiastic when services like Chariot become a larger part of the daily commute.
Before it's here, it's on the Bloomberg Terminal.
LEARN MORE