Release of Benghazi Report on Hillary Clinton Likely Pushed to Election Season
Republican lawmakers blame Democratic foot-dragging for pushing the investigation into next year.
By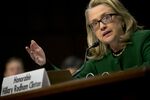 The findings of a Republican-led committee investigating Hillary Clinton's response to the deadly 2012 attack in Benghazi, Libya, likely will not be released until next year, just months before the 2016 presidential election.
Representative Trey Gowdy of South Carolina, chairman of the U.S. House Select Committee on Benghazi, has been emphasizing a desire for the panel to finish investigative work by the end of 2015, including its review of Clinton's e-mail practices as secretary of state. Now that seems less likely.
In a statement on Tuesday to Bloomberg News, committee spokesman Jamal Ware confirmed the delay. "Factors beyond the committee's control, including witness availability, compliance with documents requests, the granting of security clearances and accreditations—all of which are controlled by the Executive branch—could continue to impact the timing of the inquiry's conclusion," Ware wrote.
Also on Bloomberg Politics: The Definitive Hillary Clinton Scouting Report, by Mark Halperin and John Heilemann
Even if the investigation phase could be concluded by the end of 2015, he said in an interview, the committee would need more time to analyze the information collected, and compile findings and conclusions into a written report. No specific date for release in 2016 of the committee's final report was offered by Ware. 
"Any particular month—October?" joked Lee Miringoff, director of the Marist Institute for Public Opinion at Marist College in Poughkeepsie, N.Y., referring to the month before voters go to the polls to vote for president.
Gowdy, in a separate statement released by the committee, said, "Secretary Clinton's decision to seek the presidency of the United States does not and will not impact the work of the committee." On Wednesday, House Speaker John Boehner endorsed the committee's timetable. 
"They've got a lot more work to do," the Ohio Republican told reporters at a press conference. "The administration has made it virtually impossible to get to the facts surrounding Benghazi. So when we have the facts, we'll have the report."

Seven Inquiries
Democrats, including Clinton campaign chairman John Podesta, note there already have been as many as seven congressional inquiries into the Sept. 11, 2012 attack on the U.S. compound in Libya in which Ambassador Christopher Stevens and three other Americans were killed.
Clinton was secretary of state at the time.
Republicans have been trying for more than two years to prove that Clinton failed to bolster security before the assault and should share blame for what they say is the Obama administration's initial, erroneous account of what happened.
Before the Benghazi committee was created in May, the House Oversight and Government Reform Committee had been looking into the Benghazi attacks. Clinton also testified before the House and Senate foreign affairs committees in January 2013.

Two Hearings
As for the select Benghazi committee, the top Democrat, Representative Elijah Cummings of Maryland, notes that it has held only three public hearings since May but spent nearly $2.5 million.
"Rather than using the Select Committee—and its taxpayer-funded blank check—to target Secretary Clinton ahead of the 2016 election, Republicans should be using the Select Committee to help implement reforms to improve the safety and security of our officials serving overseas," he said in a statement.
Gowdy, in his statement Tuesday, detailed new developments that have never before been reviewed by congressional inquiries. Those include uncovering Clinton's exclusive use of a personal server and email to conduct official business, and continued questions about whether all relevant e-mails have been turned over.
'Firsthand Accounts'
In addition, explained Gowdy, "though it is not widely reported, the committee is interviewing Benghazi survivors and others who can give indispensable firsthand accounts of what happened before, during and after the attacks."
"These are eyewitnesses who have never been talked to by any committee of Congress that looked into Benghazi," Gowdy said.
So far, about 20 people have been interviewed privately by the committee, a process intended to establish a broader base of facts. Those witnesses include State Department staffers and other individuals with knowledge of events whose accounts and identities are so far not publicly known. 
There are also sit-downs still planned with as many as 40 to 50 administration officials and others. The committee anticipates that those interviews will begin starting in May.
Gowdy's committee has said those interviews would include White House Chief of Staff Denis McDonough, National Security Adviser Susan Rice, former White House press secretary Jay Carney, Joint Chiefs of Staff Chairman Martin Dempsey, former Central Intelligence Agency Director David Petraeus and former Defense Secretary Leon Panetta.
Committee Officials
Clinton herself also has been asked by the committee to sit for a transcribed interview about her e-mails; committee officials say the offer was intended to spare her from having to discuss personal and private information, aspects of some of her e-mails she has herself raised.
That response is due on May 1. Podesta told Bloomberg that Clinton would not testify privately to Gowdy though she would testify publicly.
In his statement, Gowdy said efforts to secure "a complete record" of Clinton's e-mails continue as a part of the overall Benghazi investigation. And he suggested it is part of the delay in the committee's progress, as well.
"If the committee had talked to her back in November or December as some pushed, we would not have had possession of the 300 emails we now have or known about her exclusive use of a personal server and email to conduct official business," he said.
"Once issues regarding her unusual e-mail arrangement with herself and the completeness and responsiveness of what should be her public record have been resolved, we will move as expeditiously as possible to arrange a public hearing for her to testify on the substance of the Benghazi terrorist attacks," Gowdy said.
Marist pollster Miringoff and New York-based pollster John Zogby say not releasing of the committee's final report until 2016 could carry some real political benefits for Republicans—but also represent some drawbacks.
Benghazi and e-mail issues have for the most part already been aired and done whatever damage they can do politically to Clinton, they both suggest. Ensuring those questions remain into the waning months of the 2016 campaign would help keep faithful Republican voters energized, a group Zogby says "already can't wait 'til the day the can vote against Clinton."
At the same time, says Miringoff, Republicans run the danger of angering some key blocs of swing-vote voters—particularly white, middle-aged women voters—and could face blowback from obvious foot-dragging if seen as a maneuver to "jam" Clinton's presidential bid.
Thomas Mann, a congressional expert at the Brookings Institution in Washington, says, "Hope springs eternal on GOP investigations of the Clintons."
"I assume they have nothing newsworthy to report on Hillary and are banking on a 'Hail Mary' right before the general election," he said.