Omega Sees Stock Bull Market Lasting Longer Than One Year
Kelly Bit and Arie Shapira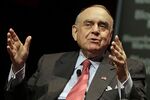 Leon Cooperman's Omega Advisors is betting that the U.S. stock market will continue to rise for more than a year.
The $9.5 billion New York-based hedge fund firm expects the bull market in equities to "last quite a while longer than the next 12 months," it wrote in a letter to investors, a copy of which was obtained by Bloomberg News.
Omega attributed its view to the expectation for long-lasting global economic expansion and central bank accommodation, according to the April 17 letter. The firm said it no longer considers European stocks as "special" relative to U.S. equities, a change from its stance in January, when it said that European and Japanese markets would beat their U.S. counterpart.
In March, the billionaire told his clients that the government is looking into some of his hedge fund's trades and that it was subpoenaed by the U.S. Attorney's Office in New Jersey and the U.S. Securities and Exchange Commission, which are seeking information on trading in certain securities.
Cooperman, 71, has built a track record as a value investor, first at Goldman Sach Group Inc. and later at his own firm. The Omega Equity Investors fund rose 1.6 percent in the first quarter, according to the letter. Cooperman declined to comment beyond the letter.
Omega said it took a new stake in Dow Chemical Co. in the first quarter. It expects asset sales, cost cutting and share buybacks to drive the stock higher, to $64 a share, according to the letter. Dow Chemical rose 0.8 percent to close at $50.02 on April 22.
Omega has returned an annual average of 11 percent from inception in 1991 through 2014, according to a separate investor letter. Last year, Omega declined 2.8 percent amid the slide in oil prices.
Before it's here, it's on the Bloomberg Terminal.
LEARN MORE