Obama Calls Democratic Foes of Trade Deal Wrong And Misleading
Toluse Olorunnipa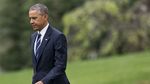 President Barack Obama said his fellow Democrats, including Senator Elizabeth Warren, have been wrong and misleading in their criticism of the trade deals he is negotiating with Asian and European countries.
In some of his most blunt comments criticizing his own party on trade, Obama accused some Democrats of playing politics, a line of attack he usually reserves for Republicans.
"Democrats aren't adverse to making political arguments that aren't always entirely accurate," Obama said during a roundtable discussion on MSNBC's "Hardball" program that aired Tuesday. "Some of the information that has been getting thrown out there plays into legitimate fears that Democratic voters have, and progressives have, but it -- it's simply not true."
The roundtable discussion with business leaders was part of an effort by the Obama administration to give momentum to an accord on bipartisan legislation to make it easier for the U.S. to negotiate trade deals. Obama is facing growing resistance from his fellow Democrats in Congress as he seeks to close a deal with 11 other nations on a Trans-Pacific Partnership trade accord, a top priority in his second term.
In the interview, Obama faulted some of the deal's most vocal critics, all top Democrats, including Warren of Massachusetts, Senate Minority Leader Harry Reid of Nevada and Senator Charles Schumer of New York.
Several Democrats have argued that the trade deals would harm workers and depress wages, benefiting only large corporations and foreign nations.
Past Agreements
"I have never, ever in my 33 years in Congress, ever supported, ever supported, a trade agreement. And I'm not going to start now," Reid told reporters Tuesday about a bill to give Obama what's known as "fast-track" trade promotion authority to negotiate deals. "They're not good for working men and women."
Obama said his fellow Democrats are basing their opposition on past trade deals with other nations that were poorly crafted and didn't provide adequate protections for workers. The current accord would avoid those same pitfalls, he said.
"I'm willing to go through, step by step, every one of the arguments that they've made and knock them down, because they're not accurate," he said. "They may apply to previous trade deals. They sure don't apply to this one."