Bullied in Norway, Merck Sees Sales of Blockbuster Dive
Makiko Kitamura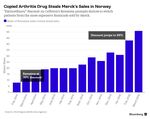 There's a price war brewing for some very lucrative drugs in Europe, and it started in peaceful Norway.
The first salvo was fired in February when Orion Oyj cut the local price for a copycat version of Merck & Co.'s blockbuster arthritis medicine Remicade by 69 percent of the original drug's cost. The move paid off swiftly: by March, Orion's version of the injection had grabbed half the market.
The discount has irked rivals. Hospira Inc., which sells the same copycat version of Remicade under a different name, says the markdown will prove too massive to sustain. Hospira and Orion both license the drug from South Korea's Celltrion Inc. Merck is urging doctors to be cautious about switching patients from its 17-year-old medicine. Still, the "knockout" offer was enough to sway wary physicians, said Steinar Madsen, medical director at the Norwegian Medicines Agency.
"The price is so low that everybody is switching," Madsen said in a telephone interview. "The doctors are saying, 'We can't throw money out the window with the more expensive Remicade.'"
The Norwegian price skirmish may be a harbinger of what's about to unfold across Europe -- and even in the U.S. Remicade, sold by Merck in Europe under a license from Johnson & Johnson, lost patent protection in the region in February. A U.S. regulatory panel is poised to review Celltrion's copy of the drug soon. Remicade's U.S. patent extends until September 2018, according to a spokesman for J&J.
Merck shares were little changed at $57.69 as of 12:10 p.m. in New York, and have risen 1.6 percent this year.
First Copy
Remsima shouldn't be mistaken for a generic. It's the first copy of a monoclonal antibody, a novel biologic therapy made in a lab that mimics human antibodies. Such drugs are more complex to replicate than chemical compounds. Derivatives of biologics are called biosimilars, because no two batches made from living organisms can be considered identical.
Biosimilars threaten $50 billion in annual sales of drugs made by companies such as Roche Holding AG, Johnson & Johnson and AbbVie Inc., according to Bloomberg Intelligence. Celltrion of Incheon, South Korea, is also working on copycat versions of Roche's best-selling Rituxan and Herceptin medicines, which together command $13.9 billion in annual sales.
Orion, based in Espoo, Finland, sells Celltrion's Remsima in Scandinavia and Estonia. Hospira markets the same Celltrion drug under the brand name Inflectra. Celltrion has also licensed the biosimilar to 10 other partners including Mundipharma International Ltd. for much of Western Europe, Astro Pharma GmbH for Austria and PharmaKern for Portugal.
Discount Pressure
Orion says competition from Hospira in Finland precipitated its radical discount decision.
Hospira won all the regional tenders to supply the drug to public hospitals in Finland last year, according to Liisa Hurme, senior vice president of specialty products at Orion.
"We only won the one tender in Norway last year, which tells you something about the competitive environment," Hurme said in a phone interview.
So Orion decided the best defense was attack, and when Norway called for bids for this year, it widened its discount from 39 percent a year earlier to 69 percent of the original drug's $10,600-a-year tab. Hospira lost out by offering a price cut of only 51 percent, according to Madsen.
Merck declined to say whether it would lower the price to win back sales from Remsima, saying it offers patients other services such as educational resources besides the medicine.
'Extraordinary' Price
Orion probably won't be able to keep it up, according to Lake Forest, Illinois-based Hospira, which agreed to be bought by Pfizer Inc. in February. "This price is extraordinary," Ann Fahey-Widman, a spokeswoman, said in an e-mail. "We do not believe this price will allow sufficient profit to maintain a sustainable biosimilar business in Norway in the future."
Merck retaliated with a blog posting in the Norwegian medical publication Dagens Medisin last month, urging physicians and health officials to think carefully before switching patients from the original drug to the copycat.
While the biosimilars were reviewed and cleared by the European Medicines Agency, "there's a lack of documentation" on the safety of systematically exchanging one medicine for another mid-treatment, Andreas Berg, head of Merck's Nordic business portfolio, wrote in the posting.
That hasn't stopped doctors from prescribing Inflectra or Remsima in Poland, where they've grabbed a 67 percent market share as of February, according to IMS Health Holdings Inc., a provider pharmaceutical industry data.
Quality Tests
Yet in some parts of Europe, doctors remain wary of the potential impact from switching patients to biosimilars, which were first introduced on the continent in 2006.
For instance, in Portugal, guidelines and position statements from medical associations are limiting the use of Remsima and Inflectra to newly diagnosed patients, according to Vitor Pendao, the Remsima account manager at PharmaKern.
That may change with more evidence from research. The Norwegian government is funding a study to observe the effects of moving from one drug to the other. And a two-year study funded by Celltrion showed that the response in patients who switched from Remicade after one year was similar to that in patients who took just Remsima.
"Until now, there were no biosimilars of monoclonal antibodies on the market," HyoungKi Kim, Celltrion's president, said in a telephone interview last month. "Once biosimilar companies provide enough data about the quality of the product, there's no reason to hesitate."
Before it's here, it's on the Bloomberg Terminal.
LEARN MORE