pursuits
McDonald's Vows to Unveil Turnaround Plan as Slump Persists
Leslie Patton and Craig Giammona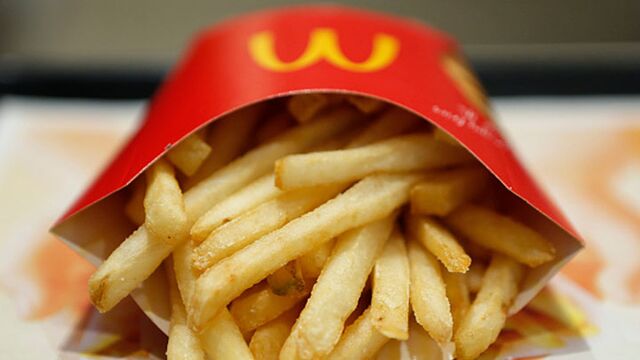 McDonald's Corp. Chief Executive Officer Steve Easterbrook promised to give details of his comeback plan for the struggling chain next month, following another quarter of declining sales and profit.
"We are developing a turnaround plan to improve our performance and deliver enduring profitable growth," Easterbrook said in a statement Wednesday. "We look forward to sharing the initial details of this plan on May 4."
Part of the strategy will include shutting about 350 underperforming restaurants this year, mostly in the U.S., Japan and China, executives said on a conference call Wednesday. That comes in addition to 350 locations worldwide that McDonald's announced plans to close in January. The company also will be selling a new sirloin burger in the U.S., positioned as a premium item.
The prospect of a comeback plan placated investors after McDonald's profit missed analysts' estimates and the company posted a sixth straight quarter of decreasing U.S. sales. The stock climbed 3.1 percent to $97.84 in New York on Wednesday, the biggest gain in almost two months.
McDonald's shares have climbed 4.4 percent this year, trailing the 9.1 percent gain of the Standard & Poor's 500 Restaurants Index.
Shifting Habits
The world's biggest restaurant chain has been struggling to pull itself out of a U.S. sales slump, made worse by fierce competition and a shift toward healthier eating habits. Easterbrook, who took the helm in March, also is taking steps to improve McDonald's image. That includes boosting pay at company-owned restaurants and curbing the use of antibiotics in its chicken.
So far, the changes haven't had a payoff. Excluding some items, profit was $1.01 a share last quarter, the Oak Brook, Illinois-based company said Wednesday. The average of analysts' estimates compiled by Bloomberg was $1.06.
U.S. same-store sales, which measure restaurants open at least 13 months, fell 2.6 percent in the first quarter. That was worse than the 2.1 percent decline projected by analysts, according to Consensus Metrix. They had dropped 1.7 percent in the fourth quarter.
Net income tumbled 33 percent to $811.5 million, or 84 cents a share, from $1.2 billion, or $1.21, a year earlier. Revenue fell 11 percent to $5.96 billion.
Sales Declines
Globally same-store sales dropped 2.3 percent last quarter. That also missed the estimates of analysts, who had predicted a 1.8 percent decline. McDonald's said it expects to report another drop for April as well.
In an effort to bounce back, the Big Mac seller is trying to simplify its menu, sell healthier fare and let diners customize burgers. It's also banking on the strength of its morning menu, which accounts for about 25 percent of domestic sales.
McDonald's has begun experimenting with selling breakfast all day in 94 stores in the San Diego area. The test, which includes Egg McMuffins, hotcakes and sausage burritos, may help the chain lure diners from competitors, such as Taco Bell and Starbucks, that have recently started selling or expanded their morning food offerings.
Getting more details of the turnaround effort on May 4 is key, said Peter Saleh, an analyst at Telsey Advisory Group.
"They have a lot to do and it's going to take time and money," he said "It's not an overnight fix."
The comeback plan could include selling more restaurants to franchisees, according to Mark Kalinowski, an analyst at Janney Capital Markets. McDonald's also may borrow money to buy back stock, he said in a report. And the chain could get more aggressive about cost cutting, Kalinowski said.
"Folks hoping for a near-term rise in the stock may be hanging their hat on hopes that McDonald's can spark some pizazz in investors," he said.
(Updates share price starting in fourth paragraph.)
Before it's here, it's on the Bloomberg Terminal.
LEARN MORE