Lowe's Faces Mounting Pressure to Stop Selling Flooring Chemical
Matt Townsend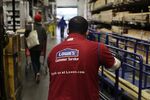 Lowe's Cos. is facing pressure to stop selling flooring with a potentially toxic chemical after rival Home Depot Inc. pledged to do so.
Home Depot, the world's largest home-improvement chain, announced Wednesday that it will phase out vinyl flooring with phthalates by the end of this year. The company made the move after working with environmental and health advocates, who found the chemical in flooring sold at Home Depot, Lowe's and Lumber Liquidators Holdings Inc.
Now attention turns to Lowe's, the industry's second-largest chain, which is still reviewing research on the chemical. The company said it's working with suppliers to consider alternatives to offer the "best possible products."
Phthalates can pose risks to human health, including asthma, harm to male reproductive organs, brain development and the immune system, according to advocates fighting to remove the chemical from products.
"Home Depot's new policy sends a strong signal to the marketplace that retailers want healthier building materials free of harmful chemicals like phthalates," said Andy Igrejas, director of Safer Chemicals, Healthy Families, which worked with the Ecology Center to test retailers' flooring. "We call on Lowe's and other major home-improvement retailers to join Home Depot in phasing out phthalates in flooring."
Lumber Liquidators, which has already come under scrutiny for allegedly toxic levels of formaldehyde in its laminate flooring, has been working since last year with suppliers to reduce the levels of phthalates in its vinyl offerings.
"This is consistent with Home Depot's efforts and with our comprehensive commitment to product quality and safety," Lumber Liquidators said in a statement. "To be clear, all our products -- vinyl or otherwise -- are safe for consumers."
Before it's here, it's on the Bloomberg Terminal.
LEARN MORE