Lindsey Graham: Rand Paul Would Have 'the Worst Chance of Anybody' Against Obama
The candidate wars, part one million.
By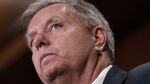 It was, in theory, a meeting with reporters on legislation that would require congressional approval of any deal with Iran. It turned into the umpteenth airing of grievances by South Carolina Senator Lindsey Graham about Kentucky Senator Rand Paul. Sitting in the Senate press gallery, Graham was asked to respond to Paul's latest attack on "hawks," in which the Kentuckian mixed up the zoology and calling them "lapdogs" for President Obama.