Hospital Asks to Send Reagan Shooter John Hinckley to Mother's Home
Del Quentin Wilber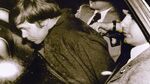 A psychiatric hospital has asked a U.S. court to let John W. Hinckley Jr., the man who shot President Ronald Reagan in 1981, live full-time with his mother in Virginia, a federal judge said Wednesday.
The revelation came at the start of what is expected to be several days of hearings examining how much more freedom to grant Hinckley, who shot Reagan and wounded three others. Hinckley, 59, was found not guilty by reason of insanity and has been granted more privileges and freedom from St. Elizabeths Hospital in Washington over the years.
Most recently, he has been permitted to spend 17-day stretches at his mother' home in Williamsburg, Virginia. Hinckley's attorney, Barry Levine, told U.S. District Judge Paul Friedman in an opening statement Wednesday that the judge should grant the hospital's request for his client to live full-time in Williamsburg on convalescent leave because he's no longer dangerous and his mental illness has long been in remission.
"There is broad agreement by all medical experts that Mr. Hinckley will not be a danger to himself and others," Levine said, calling the hospital's request an "incremental step" in light of his current lengthy visits to Williamsburg. "He's clinically ready."
Hinckley Quiet
Hinckley, clad in a gray sports coat and white shirt, sat quietly throughout the hearing, sipping water and showing no emotion, even when prosecutors raised his past failed relationships with women and the violence he unleashed on March 30, 1981. The presidential assailant turns 60 next month and looks very much his age -- his boyish looks replaced by a paunch, jowls and thinning gray hair.
Federal prosecutors countered that St. Elizabeths hasn't established enough oversight to ensure that their infamous patient follows treatment plans and does no harm. They asked Friedman to reject the plan until stricter conditions are implemented.
For example, prosecutors said, the government would like Hinckley to wear an ankle bracelet that tracks his movements and to keep in closer contact with treatment providers in Williamsburg and at St Elizabeths.
"Now is not the time to loosen the reigns of the hospital," Assistant U.S. Attorney Colleen Kennedy said, adding that such a move is "not safe, not feasible."
Prosecutor's Account
Kennedy also recounted Hinckley's violent act in 1981, past problems with women and his deception on previous visits to Williamsburg. She said he lied to health-care providers as recently as 2011 when he told them he attended a movie. He instead skipped the movie and visited a bookstore, where he browsed some shelves that contained books about presidents, assassinations and near assassinations.
Kennedy also expressed concerns that the hospital and Hinckley's family have not engaged in enough planning for future contingencies and didn't have the funds to sustain his current level of care. His mother, Jo Ann, is 89, though in good health.
Hinckley's older brother and sister testified before Friedman on Wednesday, saying they thought their younger sibling was ready to move to Williamsburg and the family had at least $500,000 it could access to finance his care over the next few years. Both live in the Dallas area and visit Williamsburg frequently when Hinckley is staying with their mother, they said.
Volunteer Work
They both described a man who does his chores, yearns to get a paying job and enjoys his volunteer work at a Virginia psychiatric hospital.
Scott Hinckley said his brother has a girlfriend, though his sister testified that the woman was just a female friend, and still loved composing music and had gotten interested in photography. He also said his brother has learned to display better judgment. Within the past few years, he testified, he and his brother made last-minute plans to attend a movie. Five minutes into the film, an image of actress Jodie Foster appeared on the screen. Hinckley nudged his brother and said they had to go and they left the theater.
On March 30, 1981, Hinckley sought to kill Reagan to impress the movie star, whom he had become obsessed with after watching the film "Taxi Driver" more than a dozen times. Hinckley failed in his quest, wounding the president, press secretary Jim Brady, Secret Service Agent Timothy McCarthy and Washington police officer Thomas Delahanty after the president had finished a speech at the Washington Hilton hotel.
Reagan almost died, losing more than half of his blood; doctors retrieved Hinckley's bullet a mere inch from his heart.
Brady, who suffered brain damage in the attack, died Aug. 4, 2014 at age 73, and a medical examiner ruled the death homicide related to the shooting. The U.S. attorney in Washington said in January that Hinckley wouldn't face prosecution over Brady's death. Sarah Brady, the press secretary's wife, died early this month, also at the age of 73.