Here are the States With the Most Chipotles per Capita
Chipotle is very popular in Washington D.C.
by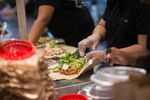 Fast-casual Mexican chain Chipotle Mexican Grill Inc. reported earnings after the market close yesterday, missing on analysts' first-quarter sales estimates and sending shares lower after hours. 
Analysts at Morgan Stanley voiced some concerns over same store sales, but maintained their overweight target, citing the longer term picture.
1Q sales, while strong in absolute, didn't live up to our expectations and obscured a strong EPS beat and full yr estimate increase. 2Q & 3Q comps likely to decelerate further, but several new sales drivers on the horizon. Maintain OW.
To boost sales, Chipotle has been accelerating new restaurant openings, with plans to open as many as 205 this year. The company has grown substantially since opening its first location in 1993, with more than 1,800 locations in the U.S. and abroad, according to their website and earnings report. 
One location seeing particularly strong growth is Washington D.C., according to analysts at JPMorgan. In 2005, JPMorgan estimates that Chipotle had around 10 locations per million D.C. residents, and by 2014 had grown to just over 30 locations.
Here's the chart showing the states with the most Chipotles per capita. 

Before it's here, it's on the Bloomberg Terminal.
LEARN MORE