French Police Thwart Terror Attack on Churches in Paris
Helene Fouquet and Angeline Benoit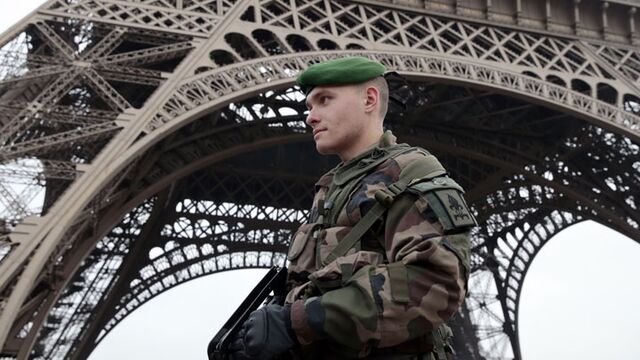 French authorities thwarted a terrorist attack on churches in Paris and arrested a suspect after he was treated in the street for a bullet wound.
Police arrested the 24-year-old computer-systems student in the 13th district of Paris and found "weapons, ammunition, bulletproof jackets and IT hardware, showing without doubt that the suspect was planning an imminent attack," said Interior Minister Bernard Cazeneuve. The attack, on one or perhaps two churches, had been planned for April 19, the same day the arrest was made.
France has been on high terror alert since the January attacks in and near Paris that left 17 people dead. About 7,500 army and police troops are deployed across France after the attack on satirical magazine Charlie Hebdo and a kosher grocery store. In the capital, soldiers and police have been patrolling with rifles to protect landmarks, transport hubs and some religious venues like Jewish schools.
"Our country, like other European countries, is facing an unprecedented terrorist threat," Cazeneuve said in Paris on Wednesday.
The Paris prosecutor said the suspect grew up in Algeria and came to France with his mother after 2001 to join his father at Saint-Dizier, in eastern France. He returned to his homeland from 2003 to 2009 as he lacked legal documents to remain on French territory. After graduating from high school in 2010 in Algeria, he returned to France as a student.
Under Surveillance
The suspect was under police surveillance as a result of potential plans to go to Syria though has no criminal record, the prosecutor said. One person was placed in custody on Wednesday in relation to a probe into possible accomplices and sources of funding.
The man was arrested after a medical unit which had treated him for a bullet wound in a street in Paris's 13th district alerted police. The suspect's home and car, in the same district, were subsequently searched, a police official said. It was unclear if the man had shot himself.
The student is also suspected of the murder of a 32-year-old woman before the planned attack. The mother-of-one was found dead in a car in Villejuif, near Paris, early Sunday. The reason for her death is unknown, Cazeneuve said.
Before it's here, it's on the Bloomberg Terminal.
LEARN MORE