Fear of a Secret 'Amnesty' Bedevils Republicans on Trade
The "trojan horse" with no legs.
By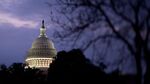 The debate over trade promotion authority and the Trans-Pacific Partnership is largely taking place on the left-hand side of the political spectrum—more accurately, between the Democrats named "Barack Obama" and the Democrats named anything else. The Republican votes for the trade deal are supposed to be locked in. Indeed, the GOP's 2014 election victory was a key reason that the TPP and "fast track" authority moved to the head of the Capitol agenda. Republican votes would affirm them; a Democratic president would sign them.