Facebook Sales Disappoint for First Time Since 2012
Sarah Frier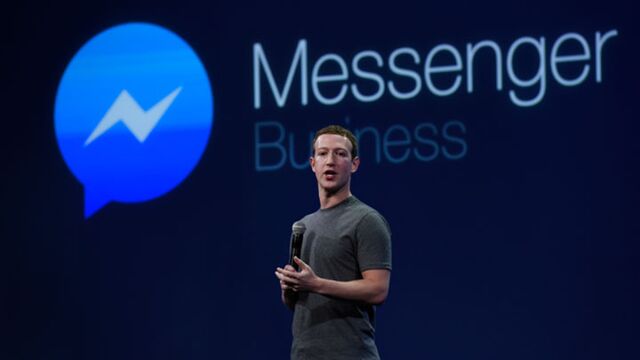 Facebook Inc.'s revenue growth was stunted in the first quarter by the effects of the strong dollar, causing the social-media company to miss analysts' sales estimates for the first time since 2012.
Sales rose 42 percent to $3.54 billion, when they could have risen 49 percent without the currency effects, Facebook said Wednesday in a statement.
Facebook, after acquiring a messaging application popular in Europe and working to appeal to customers in Asia, generates more than half of its revenue outside the U.S. The expansion has come at a cost. The dollar's 6.2 percent rally in the quarter bruised an otherwise strong performance as Facebook enhanced the reach and quality of advertisements, especially on mobile phones.
Advertising sales gained 46 percent to $3.32 billion from a year earlier, and would have increased 55 percent excluding currency fluctuations, Facebook said. Ad sales make up about 94 percent of the company's annual revenue.
"Fifty-five percent underlying growth is remarkable," said Brian Wieser, an analyst with Pivotal Research Group. "I don't think investors accounted for the gravity of the currency effects."
Earnings excluding some items were 42 cents a share, compared with 35 cents in the same period last year. Analysts had expected 40 cents, according to an average of their estimates compiled by Bloomberg.
The stock fell 1.6 percent to $83.27 at 12:12 p.m New York time on Thursday. Through Wednesday's close, the shares had risen 8.5 percent this year, compared with a 2.4 percent rise in the S&P 500 Index.
Gaining Users
Facebook said its main application has 1.44 billion monthly active users, compared with 1.39 billion in the fourth quarter and analysts' estimates of 1.43 billion.
While the company expects a bigger effect on revenue from currency fluctuations in the current quarter, Chief Operating Officer Sheryl Sandberg said they are taking the long view.
"If we grow our business and we grow our ads business and our users and our engagement, that's the most important thing we can do," she said in an interview.
Facebook last year caused concern when it predicted a spending increase of as much as 75 percent for 2015. The company on Wednesday narrowed the range of that forecast, saying expenses will more likely rise 55 percent to 65 percent.
Facebook has developed an advertising infrastructure that spans across other websites and mobile apps, using its data to connect ads to individual identities anonymously throughout the Web. The company has also been placing an emphasis on video advertisements that play automatically on its main news feed.
Videos are viewed 4 billion times daily, mostly on mobile, the company said. The emphasis on video has helped Facebook gain favor in the media and entertainment industry, making that one Facebook's top revenue sources for the first time.
Mobile Ads
About 73 percent of ad revenue came from mobile phones, an increase from about 59 percent a year earlier, the company reported.
"We're really excited that we're still capitalizing on the shift to mobile," Sandberg said.
Sandberg said more people are visiting Facebook daily, with the company reporting daily active users of 936 million on average in March, an increase of 17 percent from a year earlier.
"We're not just continuing to grow people on Facebook around the world, but the daily percentages of people coming to Facebook are up."
Global Network
Monthly active users gained 21 percent to 471 million in Asia from a year earlier, 6.2 percent to 307 million in Europe and 15 percent to 453 million in the rest of the world.
Still, the effect of a strong dollar reduced average revenue per user 11 percent worldwide from the fourth quarter.
Facebook's sales failed to meet analysts' estimates for the first time since April 2012.
"Facebook has a huge potential business in their ad network strategy, as they begin to power advertising off the site with more video, more advertising on mobile apps, and then Instagram and WhatsApp," said Colin Sebastian, an analyst at Robert W. Baird & Co. "Zuckerberg has impressed Wall Street with his maturity running the company, focusing on the long-term."