Euronext Says CEO Dominique Cerutti Leaving to Join Altran
John Detrixhe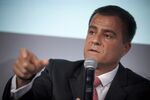 Euronext NV, the third-biggest operator of stock exchanges in Europe, said Chief Executive Officer Dominique Cerutti will leave the company to join consulting firm Altran Technologies SA.
Cerutti's departure will take effect July 15, according to a statement Wednesday. He will be CEO and chairman of Altran.
Cerutti guided Euronext during its separation last year from Intercontinental Exchange Inc., which had acquired the business as part of its purchase of NYSE Euronext. The spinoff of Euronext -- which runs stock markets in France, the Netherlands, Belgium and Portugal -- was completed in June. Cerutti became CEO of Euronext in 2009.
Euronext's shares have doubled in price since they started trading last year. The company reduced operating expenses by 11.4 percent in 2014, according to an earnings presentation.
The executive's departure "is disappointing," Peter Lenardos, an analyst at RBC Capital Markets, wrote in a research note on Wednesday. "We believe the market will likely share our disappointment with Mr. Cerutti's departure, and the shares could come under pressure tomorrow."
Euronext didn't name a successor. Caroline Nico, a spokeswoman, declined to comment beyond the statement.
Cerutti will begin at Altran on July 29, the company said in a statement.
Before it's here, it's on the Bloomberg Terminal.
LEARN MORE