EU Official Starts Her Job Picking Fights With Google and Putin
Aoife White, Peter Levring and Gaspard Sebag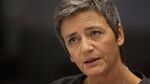 Few people tilt at giants such as Google Inc. and OAO Gazprom.
Then there's Margrethe Vestager. She's taking a swing at both of those behemoths -- at the same time.
Vestager is hardly a household name outside the bureaucratic confines of Brussels, but she happens to be one of the most powerful women in the 28-nation European Union. As EU commissioner of competition, it falls to her to bring business giants to heel if, in her eyes, they abuse their power.
Six months into the job, Vestager is on the move. On Wednesday, she took aim at Gazprom, the energy company that President Vladimir Putin has turned into an arm of Russia's state-sponsored capitalism. A week before, she raised objections about Google, the world's dominant search engine.
The EU has been trying to rein in Google for four years. And Gazprom bow to Brussels? Not without a fight. Antitrust law is a tricky business everywhere; cases often drag on and on.
Vestager, a star in Danish politics, says she's up to the challenge. She has the power to block multibillion-euro mergers and levy onerous fines. She's already vetting loopholes that let companies such as Apple Inc. and Amazon.com Inc. minimize taxes and examining whether big banks have rigged currency markets.
"I'm also from a very small country, and if you want things done well then you need to get at it because otherwise things will not happen," Vestager says. "I think there is a Scandinavian sort of no-nonsense direct approach here."
Vestager came to Brussels after a successful political career in Denmark, where she led the centrist Social Liberal Party. Her political life inspired "Borgen," a Danish TV series about a female prime minister from a small party. The screenwriter is a family friend and the lead actress shadowed Vestager for the role.
Political Rival
In one episode, "In Brussels, No One Can Hear You Scream," the Vestager-inspired minister got rid of a political rival by promoting him to a European Commissioner job in the Belgian capital. The same kind of job Vestager got last year.
Right now she's sharing a Brussels flat with her media adviser. Her husband, an academic, and two of her three daughters (the eldest is in college) will join her in a few months time. She's one of nine female commissioners among 28 nominated to represent each of the EU member states at the EU's executive.
Her move on April 15 to formally accuse Google of unfairly promoting its shopping service was cheered by German Economy Minister Sigmar Gabriel, who'd pressed Vestager's predecessor, Joaquin Almunia, to drop a proposed settlement that would have let Google avoid possible fines.
Google Bashing
But Vestager wants to avoid the usual Google-bashing in Europe, where a chorus of politicians and companies have called on the EU to escalate its investigations into the company.
"I admire Google as a company. I think it's a great company," Vestager says. "My kids use it. Everyone uses it. It's in the language."
Still, policy makers have to take a stand, she says.
"It's also in my own beliefs that you should tell people what you see," Vestager says. "You should always take unpopular decisions if you think this is the right thing to do."
European Union regulators attacked Gazprom's pricing structure throughout the eastern part of the bloc, further straining political relations between the 28-nation bloc and Russia.
Yet, the antitrust probe is "unequivocally" not payback for Russia's actions in Ukraine, Vestager said in a Bloomberg interview Monday.
"For me it is important that any case can stand up in court. And a court doesn't like opinions or emotions, they want facts and that's what I'm here for," she said.
Being fair extends to how she comments on cases her officials are probing: as a rule, she doesn't.
Gray Men
That doesn't mean she's like the "no comment" suits who tend to pack the EU's upper echelons. She once taunted a pack of media photographers by taking their picture on her phone and posting it on Twitter, where she has more than 98,000 followers. She's also tweeted about Denmark's X Factor TV talent show and published snaps of a temporary neck tattoo.
Previously, as Denmark's economy minister and deputy prime minister, Vestager managed a complex financial dossier while keeping a common touch. She was known to bring home-baked breakfast goodies for her officemates.
"Before she took her party into the government, commentators in Denmark labeled her stubborn and dumb for years," says Henrik Kjerrumgaard, Vestager's former political adviser. She stuck by unpopular policies, like reducing unemployment benefits, and got hell for it, he recalls.
It was "quite something to take the kind of beating she went through in those years," Kjerrumgaard says. Taking on Google and Gazprom could leave a few bruises, too.
Before it's here, it's on the Bloomberg Terminal.
LEARN MORE