Egged Irish Banker Readies to Give Evidence on Crisis
Joe Brennan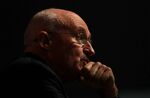 The last time Dermot Gleeson appeared publicly to explain the collapse of the Irish financial system, an investor threw eggs at him, in an incident which came to symbolize national anger toward bankers.
Six years on, the former Allied Irish Banks Plc chairman will become the first senior banking executive to be questioned by a parliamentary inquiry into the nation's financial collapse. Along with Donal Forde, the former head of the banker's Irish retail business, he'll be from be quizzed by lawmakers in Dublin on Thursday.
"We are heading into an important phase of the inquiry where we will hear from senior personalities and figures that were in positions of authority during the build-up to the crisis and the crisis itself," Ciaran Lynch, a Labour Party lawmaker and chairman of the inquiry committee, said in an interview. "This will be the first time that many of those individuals will go on full and public record."
Ireland rescued its banks after the worst real estate bust in western Europe, injecting about 64 billion euros ($68.9 billion) into the financial system. In 2010, with bank losses mounting, the government was forced to seek an international bailout. Much of the public blame for the crisis which devastated the economy has been laid at the feet of bankers.
In May 2009, an investor at a shareholder meeting threw two eggs at Gleeson, a former attorney general, on the eve of the first installment of the lender's 21 billion-euro state bailout. Chair of the bank from 2003, he resigned in July 2009.
Bank Chiefs
Former AIB chief executive officers, Eugene Sheehy and Michael Buckley and outgoing CEO David Duffy, are scheduled to appear before the committee on April 29, followed the next day by Brian Goggin, CEO of Bank of Ireland Plc between 2004 and 2009.
The committee said last week it agreed a way to collect evidence from former European Central Bank president, Jean-Claude Trichet, without him appearing before the inquiry. Trichet will address the Institute of International and European Affairs in Dublin on April 30, where his address and a question and answer session will be webcast.
The inquiry started public hearings in December, questioning economists, media executives and realtors to lay out the context for the crisis.
Over 50 witnesses will be questioned in the second phase of the inquiry, with directors of the National Asset Management Agency, set up to cleanse banks of toxic loans, giving evidence today. The committee is slated to complete its final report in November.
Before it's here, it's on the Bloomberg Terminal.
LEARN MORE