D.R. Horton Falls as Lower-Priced Homes Seen Gaining
John Gittelsohn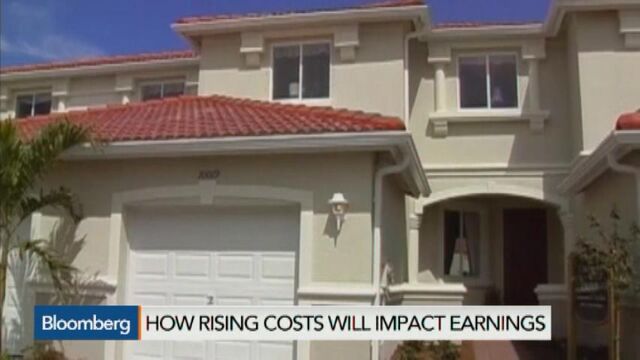 D.R. Horton Inc., the largest U.S. homebuilder by revenue, fell the most in three months after saying its entry-level Express Homes division may make up a greater share of sales, putting pressure on profit margins.
Gross margin in the fiscal third quarter probably will be 19.5 percent to 20 percent, D.R. Horton executives said on a conference call Wednesday. In the second quarter ended March 31, it was 19.7 percent, down about 250 basis points from a year earlier. Average selling prices may fall, the company said.
"Certainly, as Express grows, that does pull the ASP down," Bill Wheat, chief financial officer of the Fort Worth, Texas-based builder, said on the call. "So, that ASP is one of the most difficult things to predict exactly where it's going to be quarter-to-quarter."
The shares dropped 5.4 percent to $27.03. It was the biggest decline since Jan. 15.
D.R. Horton was among the first builders to signal it was boosting sales volume more than prices to draw in more first-time buyers. U.S. new-home sales have been slow to recover from the housing crash, even as the job market improves, because many potential buyers are unable to get a mortgage or afford the higher cost of new construction.
For D.R. Horton's fiscal second quarter, the average closing price was up 3.7 percent from a year earlier. Analysts at Sterne Agee & Leech Inc. led by Jay McCanless were expecting a 5.2 percent gain, they said in a note to clients Wednesday. McCanless rates D.R. Horton the equivalent of hold.
Orders Increase
Net income for the three months through March climbed to $147.9 million, or 40 cents a share, from $131 million, or 38 cents, a year earlier, the company said in a statement. The average of 15 analyst estimates was 38 cents a share, according to data compiled by Bloomberg.
Orders increased to 11,135 homes with a value of $3.2 billion in the quarter, compared with 8,569 houses valued at $2.4 billion a year earlier. Homebuilding revenue rose to $2.34 billion from $1.7 billion.
Express Homes accounted for 8 percent of revenue and 18 percent of new sales during the quarter, with an average price of $179,000, according to Jessica Hansen, D.R. Horton's vice president for investor relations. The lower-cost models may account for 30 percent of the company's production, she said.
"Clearly, we are growing our Express community count at a faster rate than the rest of the company," Hansen said on the call. "In absolute terms, the number of homes sold doubled – or tripled."
Before it's here, it's on the Bloomberg Terminal.
LEARN MORE