Bored Waiting for a Nasdaq Record? Check Out the Nikkei at 20,000
Joseph Ciolli and Callie Bost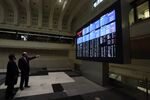 American investors who are getting tired of the Nasdaq Composite Index's months-long flirtation with its dot-com high have something to get excited about in Japan.
The Nikkei 225 Stock Average just closed above 20,000 for the first time in 15 years, capping a 33 percent rally over the past six months amid efforts from Prime Minister Shinzo Abe to stimulate the economy. While the Nikkei is still a long way from its own record, it got to 20,000 as the Nasdaq spent the last two months sputtering within 4 percent of the 2000 peak.
As the Federal Reserve weighs raising interest rates, equity markets from Japan to Europe have taken off in 2015 as the accommodative policies of their central banks lure investors. The Nikkei 225 has roughly doubled since Abe took office in late 2012 as he's pushed Japanese companies to improve profitability and boost returns to shareholders.
"There's always money out there looking for international opportunities," said Richard Sichel, chief investment officer at Philadelphia Trust Co., which oversees $2 billion. "The emphasis can shift from one area to another. Right now it seems to be moving towards Asia."
The Nikkei has rallied as Japan's government passed rules aimed at boosting return on equity and tightening corporate governance. It's introducing a code in June intended to guide executives and equity owners on how firms should be run.
BOJ Support
The Nikkei 225's last rally past 20,000 was short-lived. The gauge closed above that level on Feb. 9, 2000, and again on the first two days of March, before a three-week stint over the mark that halted April 14. It failed to end above it again until Wednesday. To Stewart Richardson of RMG Wealth Management LLP, the index's current gains will be sustained by a dovish Bank of Japan.
Central bank and public pension fund stock purchases are "putting an underlying bid on the market," Richardson, chief investment officer at RMG Wealth Management in London, which owns Japanese equities, said by phone. Investors will "look to follow the QE trade in Japan," he said.
The Nikkei 225 will still need to climb another 93 percent to reach its all-time high reached in December 1989. That's a far cry from the the Nasdaq, which needs to add just 0.7 percent from Tuesday's close of 5,014.10 to surpass its bubble-era record.
Japanese economic data may give equity investors pause. The Citigroup Inc. Economic Surprise Index for Japan has been negative since Feb. 16, indicating that data releases have been worse than expected.
Stock Valuations
Meanwhile, the relative strength index for the Japanese benchmark gauge sits at 67.35, approaching the 70 threshold that some traders view as a sign gains have gone too far.
Still, comparatively inexpensive valuations make the Nikkei 225 attractive, according to Mark Luschini of Janney Capital Management LLC. The benchmark Japanese gauge trades at 22.76 times reported earnings, while the Nasdaq has a ratio of 29.66.
Also underpinning bullishness is a weak yen. The currency fell to the lowest since 2007 versus the U.S. dollar in December, and now sits just 1.3 percent from that level. The yen has fallen more than 4.7 percent versus the greenback, British pound and Swiss franc over the past six months.
"We're expecting bigger gains on pretty good profit growth and relatively inexpensive valuations," Luschini, whose firm oversees about $68 billion, said by phone. Janney Capital is overweight Japanese equities. "That combination, along with the fact that exporters are benefiting from a weakened yen, continue to make Japan a fertile environment."
Before it's here, it's on the Bloomberg Terminal.
LEARN MORE