Boeing Faces 'Steep Climb' to Cash Goal on Dreamliner Costs
Julie Johnsson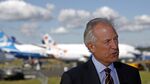 Boeing Co. dug itself a hole in the effort to meet its 2015 forecast after reporting a first-quarter cash outflow and higher expenses for its 787 Dreamliner, the marquee jet hamstrung by production setbacks.
While analysts expected a decline in cash in the year's first three months, traditionally a slow period, they were caught off guard when operating cash flow plunged 92 percent and free cash flow was a negative $486 million. The stock fell the most among companies on the Dow Jones Industrial Average.
Investors have flocked to Boeing since a January forecast suggested it is poised to reap billions of dollars from a record order backlog and declining costs for the 787. Chief Executive Officer Jim McNerney stood by those predictions Wednesday, saying the gains would come later this year.
"The company was very adamant on the call of getting to $9 billion or greater operating cash flow for the year," said Jeff Morris, head of U.S. equities at Standard Life Investments, which manages $383 billion in assets. "It's a fairly steep climb."
Boeing's cash drain and continued 787 struggles damped investor optimism over a quarter in which the Chicago-based planemaker beat analysts' profit estimates to extend a five-year streak of matching or topping projections.
Earnings excluding some items increased to $1.97 a share from $1.76 a year earlier, Boeing said. That exceeded the $1.80 average estimate of 17 analysts surveyed by Bloomberg. Sales climbed 8 percent to $22.1 billion, short of the $22.5 billion average projection.
Stock Drops
Boeing declined 1.4 percent to $151.19 at the close in New York. That pared the stock's gain for the year to 16 percent, tied for the top spot among the 65 companies on the Standard & Poor's 500 Industrials Index.
"Boeing is perhaps learning the hard way that if you tell investors to focus on the cash flow, then you had better deliver it," Robert Stallard, a New York-based analyst with RBC Capital Markets, said in a note to clients. He rates the stock as sector neutral.
Operating cash flow tumbled 92 percent to $88 million, reflecting "timing of receipts and expenditures," Boeing said. Free cash flow was negative $486 million, dropping from $615 million a year earlier and trailing the $782.6 million average estimate among analysts surveyed by Bloomberg.
Cash Forecast
Boeing reaffirmed its forecasts for 2015 revenue and cash generation, including generating more than $9 billion in operating cash flow for the year.
Morris of Standard Life said free cash flow, a measure that excludes capital spending, may reach $14 a share later this decade if Boeing maintains its stock buybacks and monetizes an order haul of commercial jets equal to about eight years of factory output.
"If we see weak cash flow into the second quarter, then that undercuts the story," he said in a phone interview.
Deferred production cost for the Dreamliner rose 3 percent to $26.94 billion at the end of the first quarter from the prior three months, Boeing said. The expense is an accounting measure that is supposed to drop as a projected gain in efficiency reduces assembly costs on the 787, which entered service in 2011 more than three years late.
The measure should "grow at similar levels for the next couple of quarters before seeing a healthy decline in growth later in this year," Chief Financial Officer Greg Smith told analysts.
Unit Costs
One encouraging sign: assembly costs are falling for the new, larger 787-9, the second version of the Dreamliner, Smith said. On a per-plane basis, the figure is down 25 percent over the first 20 787-9 deliveries, he said. Boeing projects the higher-margin model to account for about half of this year's Dreamliner deliveries.
Progress on 787 costs is critical as Boeing works to convert a backlog of 5,700 total jet orders into cash. The first-quarter increase was less than in the final three months of 2014, Douglas Harned, a New York-based analyst with Sanford C. Bernstein & Co., said Wednesday in a note to clients.
"The trajectory is consistent with our estimate and company guidance," wrote Harned, who rates Boeing as the equivalent of buy. "We project deferred production to peak in late 2015 at roughly $28 billion."
Revenue for Boeing's commercial airplane unit rose 21 percent to $15.4 billion. The world's largest planemaker handed over 184 commercial aircraft in the quarter, 23 more than a year earlier, as it churned out models such as the 737, 777 and 787 at a record pace.
A surge in Dreamliner deliveries contributed to a decline in the division's operating margin, said George Ferguson, senior analyst for air transport with Bloomberg Intelligence. That gauge declined to 10.5 percent from 11.8 percent.
"They can only drive so much of the earnings through buying back shares and increasing" 737 output, Ferguson said. "They've got to get the 787 to work better to boost earnings and get rid of this cash problem."
Before it's here, it's on the Bloomberg Terminal.
LEARN MORE