Bargain Basement Builders Poised for Election Year Love in U.K.
Inyoung Hwang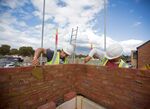 With valuations the cheapest in four years and Conservatives and the Labour Party both voicing support for housing before next month's election, the ground is getting firmer beneath U.K. homebuilders.
A rally for the industry in 2015 hasn't been enough to lift price-earnings ratios to even half the average for the FTSE 350 Index, data compiled by Bloomberg show. Persimmon Plc and Taylor Wimpey Plc, among the biggest builders by market value, have advanced more than 11 percent this year and still trade below valuations of a year ago. The FTSE 350 fell 0.2 percent at 9:55 a.m. in London.
With elections looming on May 7, Britain's political parties have promised to address a shortage of homes and maintain government programs designed to fuel purchases. Consumer sentiment at a 13-year high and speculation that the Bank of England will delay raising rates will give a further boost, said Dan Nickols of Old Mutual Global Investors U.K., who has been overweight on the sector for about two years.
"We've consistently failed to build enough houses in the U.K. and that creates real pressure," said Nickols, who helps manage 15 billion pounds ($22.5 billion) at Old Mutual in London. "There simply isn't enough housing stock to satisfy demand."
Multiples for the group based on reported profit slid as the housing market cooled last year and officials introduced measures to limit riskier mortgages. U.K. property-related companies are among the most loved by analysts. They rate them a 4.17 on average on a scale where 5 equates to a unanimous buy recommendation.
Reversing Stance
Even Jefferies Group, which was more cautious on the industry, reversed its stance and lifted its rating on 10 property companies, including Taylor Wimpey, Bovis Homes Group Plc and Barratt Developments Plc. The Bloomberg UK Homebuilder Index has outperformed the nation's equity benchmark this year.
"We had thought that the U.K. housing market would at best pause for breath and at worst decline significantly" before the election, the firm wrote in an April 10 note. "We were wrong."
Persimmon's valuation has slumped 8 percent in the last year, even after reporting full-year profit rose 45 percent. Taylor Wimpey, which doubled its dividend last month, has seen its multiple based on earnings slide 4.7 percent in the same period.
Last week, the Royal Institution of Chartered Surveyors warned that Britain faces a housing crisis due to a supply shortage.
Doubling Homes
Conservative Prime Minister David Cameron has pledged to double the number of houses built for first-time buyers and is reintroducing a policy that would give low-income families the chance to purchase homes rented from local councils. Meanwhile, Labour leader Ed Miliband has blamed Cameron's policies for driving up prices, while promising to deliver at least 200,000 homes a year by 2020.
Still, governments may struggle to meet their targets, according to Peter Dixon, an economist at Commerzbank AG.
"There's no guarantee that's going to be realized," London-based Dixon said. Plus, homebuilders "have done remarkably well of late so they may well underperform the market going forward," he said.
The government builds less than half of the 245,000 homes the U.K. needs a year to keep up with growing demand, according to the National Housing Federation. About 115,000 were completed annually on average over the last five years.
No Majority
Polls show that neither Conservatives nor Labour are heading for a majority. Should the Tories win, a promised vote on Britain's membership in the European Union runs the risk of investment leaving the country. If Labour comes out on top, London's property market may suffer from Miliband's proposed "mansion tax" on homes valued at more than 2 million pounds.
That would mainly affect Berkeley Group Holdings Plc however, because of its high exposure to the British capital and the more expensive end of the market, according to J&E Davy Holdings Ltd.'s Colin Sheridan.
"Customers must be less worried than had been feared regarding the election," said Sheridan, a Dublin-based analyst. "Both political parties seem acutely aware of the housing shortage and are willing to act."
Before it's here, it's on the Bloomberg Terminal.
LEARN MORE